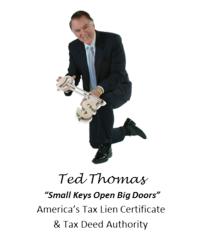 A common mistake that the average tax lien investor makes is not knowing what happens to their investment if the certificate doesn't redeem
(PRWEB) May 14, 2013
There are critical steps that the average tax lien certificate investor will want to follow with their first tax lien certificate purchase. These steps revealed in a new video training on TedThomas.com.
"A common mistake that the average tax lien investor makes is not knowing what happens to their investment if the certificate doesn't redeem" explains tax lien certificate and tax deed investor Ted Thomas.
Keep an eye on the redemption. Mr. Thomas said most certificates will redeem but what if you are the certificate holder on a property where the taxes are never paid?
In some states the certificate holder will automatically receive the deed to the property. In other states, a tax foreclosure is required to formally put the property into the tax lien buyer's hands.
"Know the deadline to begin foreclosure proceedings. When that deadline is reached, start the tax deed process. This creates a renewed urgency to redeem the property," he said. "Some states also require the redemption process to begin within a certain time or the certificate and it's investment is lost. Research the state statues or ask the county officials to find out the process."
Because there is a chance the tax lien certificate will end up owning the property the investor will also want to know what property they might end up owning and what liens stay on the property after the foreclosure process. Keep an eye on the practical resale value of the real estate, he said.
"If you get the certificate and then end up owning the property, what can you do with it? Is the building in good shape? Is the lot cleared for development? Approach the sale like you are considering buying it. Does the mortgage or other liens fall off the property? Is it still a good deal if you end up owning the property?" he asks.
To Learn more important steps an investor must take to avoid common mistakes, don't miss Ted Thomas must-see video Titled, "Truth About Tax Liens Certificate" at his website TedThomas.com. Ted Thomas is America's Tax Lien Certificate & Tax Deed Authority. Thousands of men and women have been personally educated by Ted Thomas on their quest to become better real estate investors.