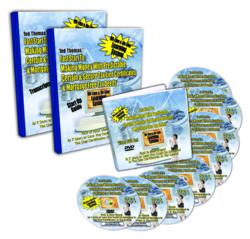 Investors that know and understand the process of tax lien investing could earn returns as high as 36 percent.
Dallas, TX (PRWEB) November 29, 2012
Ted Thomas is one of the most requested tax lien certificate instructors in the United States. His training has helped thousands start tax lien investing careers. While hundreds attend Ted's in-person training seminars, a new tax lien certificate training series from Ted Thomas has been released on DVD for the first time. This DVD available here is a comprehensive training course for tax lien investors to learn from one of the top instructors in the country.
The increase in tax lien investing in all 50 U.S. states is due in part to the high numbers of foreclosures and outstanding property taxes. Government agencies in counties and states are responsible for assessing the taxes owned on properties.
Homeowners that are unable to pay the assessed portion could receive a tax lien on the property.
Investors that know and understand the process of tax lien investing could earn returns as high as 36 percent. Ted Thomas has taught his tax lien certificates investing courses for over 20 years and is now teaching these courses on DVD.
According to Ted's DVD, any adult in any state in the country can purchase a tax lien certificate as an investment. The course explains that these investments are one of the only types backed 100 percent by the government. It is this assurance that many investors search for when investing money into real estate related investments.
Investors that research investments know that investing correctly and at the right time is one of the strategies to help build returns. Since tax lien certificates can be sold or loaned, a person could achieve separate levels of income from these guaranteed securities.
The new training DVDs that have been launched at Ted's official website at http://www.tedthomas.com are designed for both men and women to use. This unique training opportunity is providing a chance for those that cannot attend Ted's tax lien investing seminars in person to get the same information at home.
A free webinar has been prepared for those that visit Ted's official website to help educate someone on the basics of tax lien investing and to help clear up any incorrect information reported online. This new webinar is offered free of charge.
A new YouTube channel has also been launched to help the public keep up with Ted's training and seminar schedule. This channel can be accessed here at this link http://www.youtube.com/user/TaxAuctionTed.
About Ted Thomas
Ted Thomas has been helping men and women around the world to get started in tax lien investing for over 20 years. Ted has personally instructed thousands of average people to help them learn the tips, strategies and techniques that he has used to become a tax lien certificate expert. Ted Thomas has launched his training series on DVD and through online courses to help make his training available anywhere in the world. The largest source currently online for tax lien investing information is TedThomas.com.