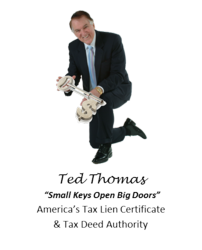 Many first time tax lien certificate and tax deed investors make simple and easy to avoid mistakes just because they don't know any better when attending a tax sale
Los Angeles, CA (PRWEB) May 08, 2013
TedThomas.com has released a new online video training for both beginning and advanced investors to learn about the various ways to avoid common mistakes when purchasing a tax lien certificate or tax deed. A person building their investment portfolio or who is just getting started could benefit from this expert advice now offered for no cost online.
Many first time tax lien and tax deed investors make simple and easy to avoid mistakes just because they don't know any better when attending a tax sale, said Ted Thomas, a tax lien certificate and tax deed investment expert.
He identified the most common mistakes and how to avoid them.
The biggest mistake when investing in tax lien certificates or tax deeds is not being prepared on the auction day and not knowing the auction rules. For example, make sure that you know what kind of payment is necessary when attending the tax defaulted auction.
"Most counties will require cash or cash equivalent and few counties will accept a credit card or personal check," Mr. Thomas said. "Some counties require payment the moment the bidder wins the property even while the auction is still being conducted and other counties will require payment once the auction is over and everything is tallied."
Some county tax auctions require 10 percent of the bid at the time of registering for the sale and then the remaining balance within 30 days.
"Don't guess. Find out for sure. Call the tax collector's office to find out what the payment procedure is and read the counties auction rules," Mr. Thomas said.
Most counties require registration before the date of the tax defaulted auction and require a deposit with registration. He pointed to Los Angeles County. Tax deed bidders must pre-register 30 days before the tax sale and post a refundable $5,000 deposit to participate in the auction. Mr. Thomas said this large of a deposit is unusual, but is an example of why knowing the auction rules is necessary.
Many tax authorities which conduct these sales will have a website where you can access and download the auction rules. The county wants to make it easy for you to be educated on the auction rules before participating in the tax defaulted auction.
These need to know tips and many others are explained in detail at TedThomas.com in a new video training created to help educate those getting started and guide them through avoiding the common mistakes that both beginning and advanced investors make when purchasing tax lien certificates and tax deeds.
About Ted Thomas:
Ted Thomas is a private coach, public speaker, educator, author and top tax lien certificate and tax deeds real estate investor. Through in-person live events and other training, Ted helps to educate men and women who are new or expanding on the process of earning 16-36 percent interest rates with tax certificates or owning mortgage-free real estate with tax deeds. The methods that are taught have been pioneered by Ted Thomas over the past 25 years.