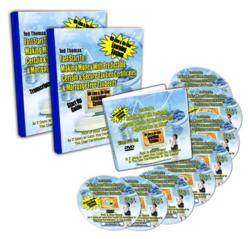 The published guide online includes a government-backed way to earn up to 36 percent each year.
Seattle, Washington (PRWEB) December 23, 2012
TedThomas.com has published a new tax lien certificate investing book online. This book is written for those that want to learn this alternative real estate investing strategy without attending in-person seminars or online training programs. This new book can be acquired online at http://www.tedthomas.com/products.
The information that is now included inside of this book is applicable to all U.S. states. The strategies that are offered are updated routinely as information is changed at the state level.
Taxation is one way that local, state and federal governments use to fund programs that help others. Government workers also receive salaries in part due to the tax collection that is enacted by current laws.
The newly published tax book includes an overview of the investment loopholes that are currently available in state tax codes. These loopholes make it possible for payouts to be as high as 36 percent when investing at the state level in government-backed securities.
"The government guarantees returns paid to investors that know how to use this tax loophole method," said Ted Thomas in his new book. "Each state offers a different rate although the strategy is the same," added Ted.
A percentage of taxes at the local, state and federal levels go unpaid each year according to Ted's book. It is this taxation gap that can be taken advantage of by investors that know how to use the loopholes written into the state tax codes. Those that invest in real estate or make other investments annually could find the information in the brand new published guide useful.
The TedThomas.com website online includes access to over 30 books, guides and other training materials that are written for beginners but include advanced information. A new series of webinars are available to help introduce more advanced concepts that are included in the book series.
About Ted Thomas
Ted Thomas is one of the few instructors that teach government-backed investment strategies online and offline. Ted has provided this training for more than 20 years and the information is updated constantly as state tax laws are changed. The unique investment strategies that are offered to average people through books, courses and seminars is authored by Ted Thomas. Ted remains active as an investor and consultant as well as a top investment speaker at real estate conferences and business conferences in the U.S. and Canada.