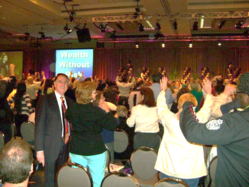 One of the highlights of the conference will be two live auctions.
Tampa, Florida (PRWEB) May 23, 2013
Veteran teacher and investor Ted Thomas has announced the dates of his 2013 Auction Preparation Workshop. Taking place June 3-6, 2013 in Tampa, FL, attendees will learn how to purchase Tax Lien Certificates as well as Mortgage Free Tax Deeds at Tax Defaulted Property Auctions. To Register Go To TedThomas.com/Workshop/Tampa or Call Dawn at (321) 449-9940.
Each seminar training is designed to give investors the methods, strategies, tools, techniques and tactics that will help them to achieve their financial goals. Attendees will learn how to find Tax Lien Certificates as well as Mortgage-Free Properties. In addition, they will discover how to purchase them online and be sure they are getting the best deal for their investment dollar. At the seminar, attendees will go through actual deals put together by accomplished investors across the country.
Ted Thomas's extensive coaching staff includes Terry Ogburn, a veteran Tax Lien & Deed expert, as well as Bob Schumacher, who has completed over 109 deals at Tax Defaulted Options. Visiting professors include Bill Beddoes, Linda Misischia and Dan Simsimsan.
Knowing how to profitably sell property is an important component of investing in Tax Default Options. Ted Thomas Auction Workshops are unique in that they not only teach investors how to purchase property; they explain how to sell the property as well. The seminar covers a myriad of exit strategies, including eBay, Craigslist and a number of off-line methods. Ted Thomas shares dozens of strategies and tactics to move properties quickly and profitably.
One of the highlights of the conference will be two live auctions. One auction will be a Tax Deed Sale which attendees will attend online in the Classroom. The second is a field trip. An entire group will travel to see a large Tax Deed sale in action. Workshop participants will have the opportunity to bid on real properties. Those preferring not to bid will be able to observe the auction and gain valuable experience. This type of up close and personal participation is unique among investment training workshops.
Interested investors can call Dawn from Ted Thomas at 321-449-9940 for more information or register Online at: TedThomas.com/Workshop/Tampa
About Ted Thomas
Ted Thomas is the number one tax lien and tax deed authority in America. For over 20 years he has made a commitment to educate investors how to profitably buy and sell mortgage-free real estate. Through both live seminars and online training, Mr. Thomas teaches Tax Deed and Tax Lien Certificate investment tactics to help people reach financial independence.