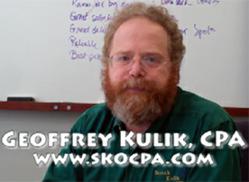 Pick up the phone and find out why your old customers are no longer buying from you
San Francisco, CA (PRWEB) July 27, 2011
Many companies fail to communicate with past customers about why they ended the business relationship. Business development specialist and CPA Geoffrey Kulik of Sterck Kulik O'Neill Accounting Group says this is a mistake. In a July, 2011 business development video, Geoff tells a real-life story of how one business booked $50,000 by making 12 phone calls to "former" customers.
"Pick up the phone and find out why your old customers are no longer buying from you," says Geoff.
"One of the strategies that helps business become more profitable is for them to find out how and why they lost clients," Geoff advises. A participant in the firm's business roundtables discovered that when he called customers who had not ordered from him in two years, most felt their business was not appreciated.
Simply by calling former customers and telling them that he wanted their business, the owner booked $50,000 in orders.
Overall, two-thirds of people who stop using a business say that they thought the business didn't care if they were customers or not, Geoff explains. "This 'perceived indifference' is widespread, costly, and relatively easy to correct."
"Not everyone is going to get 12 new significant orders when they call former clients," he says. "But in our roundtable discussions, business owners say that checking in with ex-customers is very positive." Occasionally the owner will hear of a problem to correct, but most often the customer simply felt that their business wasn't valued, so they went somewhere else. The conversations were surprisingly easy and low-key, Geoff adds.
In the short video, Geoff also reveals the importance of finding out if there are common threads in customers' decisions to leave. He says that business owners need metrics to understand why people are leaving so that they can measure the success of their countermeasures.
"What you can measure you can manage, and what you manage you can leverage," Geoff offers.
For further information on San Francisco business development roundtables, business consulting, or traditional accounting services, please visit Sterck Kulik O'Neill at http://www.skocpa.com or phone them at (415) 263-9065.
About Sterck Kulik O'Neill Accounting Group
Sterck Kulik O'Neill Accounting Group is a San Francisco CPA firm that specializes in tax services, business development, strategic planning, and IRS audits in San Francisco. Sterck Kulik O'Neill Accounting Group serves all San Francisco Bay Area communities.
###