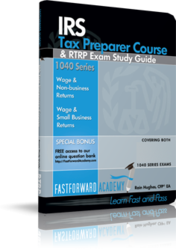 Offering this tax preparer course as a webinar increases accessibility to our students who live all over the country.
Orlando, FL (PRWEB) August 28, 2012
Fast Forward Academy knows that students studying for the Registered Tax Return Preparer Exam benefit from any extra training they receive, and, as such, this world renowned company of high quality tax education products announces its fall webinar schedule targeted at aspiring tax preparers.
Offered in both English and Spanish and broken into two main parts and one optional part, these webinars focus on RTRP test preparation and count for 15 hours of total continuing professional education (CPE). This online tax preparer course includes Fast Forward Academy's RTRP Study Guide, Test Bank and Unlimited Practice Exams and also consists of 3 hours of 2012 tax updates online and 2 hours of ethics online.
Part One of the first webinar consists of four hours and focuses on RTRP test preparation, concepts and reviewing the most important concepts from the RTRP Prep Book. Any student studying to become a tax preparer can sign up for the English webinar from 1:00pm–5:pm EST on either September 18, September 25 or December 4, and in Spanish (same time) on either September 20, October 2 or December 11.
Part Two is also a four-hour RTRP Test Prep webinar for those wishing to be a registered tax preparer and includes Practical Applications, Q&A Session and Explaining Answers to Applied Concepts. Students can attend this webinar from 1:00pm–5:00pm EST on either October 16, October 23 or December 5 in English, or October 18, October 25 or December 12 in Spanish.
Part Three is an optional session that consists of 5 hours of CPE (broken down into 3 hours of 2012 Federal Tax Updates and 2 hours of Ethics) and takes place from 1:00pm–6pm EST on either November 13, November 27 or December 6 in English, or November 15, November 28 or December 13 in Spanish.
Fast Forward Academy President, Matt McBride, is pleased to offer these webinars for aspiring tax preparers. "These webinars will be presented by Hector M. Garcia, CPA, RTRP. Fast Forward Academy has partnered with Mr. Garcia before, and we're pleased that our students can benefit from the experience of such a highly respected registered tax preparer." McBride continues, "Offering this tax preparer course as a webinar increases accessibility to our students who live all over the country. We're always trying to help our students prepare for the RTRP exam as thoroughly as possible, and using webinars is another method that we can offer our students."
The webinars are available to purchase for $399.99 for Parts One and Two, and $149.99 for Part Three.
Space is limited, and so students are encouraged to sign up for these webinars early.
To learn more about Fast Forward Academy's fall webinars, click here.
About Hector Manuel Garcia
Hector is a passionate accountant and trainer who has been preparing taxes since 1998 and has seen the IRS's regulations change for the past 14 years. He is a practicing Accountant and Tax Preparer in the Davie, FL firm, Quick Bookkeeping & Accounting LLC. Before working for a private form, Hector worked in several accounting & financial departments of past Fortune 500 companies such as Best Buy, Circuit City, Bank of America and Wells Fargo.
Hector has obtained three post-graduate degrees, each strengthening his career in the fields of Accounting, Finance, and Taxation.
Fluent in Spanish and English, Hector is married with two children and lives in Weston, FL.
About Fast Forward Academy
Fast Forward Academy, LLC provides companies and individuals around the world with the tools to help them efficiently manage their professional education needs. The name Fast Forward Academy reflects the scope of our mission—helping students and professionals accomplish more in less time. To realize this goal, we make every effort to provide the most useful and efficient exam prep material in the market place, all designed to help our students Learn Fast and Pass. Our principal focus is to supply rapid training and streamlined continuing education to professionals in the fields of taxation, securities and insurance.