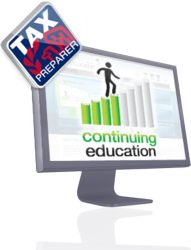 Partnering with Instant Tax Service allows us to broaden our reach to a whole group of people in the tax industry
Orlando, FL (PRWEB) October 22, 2012
With the year 2012 quickly coming to an end, tax professionals are running out of time to get their required 15 continuing education credit hours (CPEs), as per new IRS tax preparer requirements. Fast Forward Academy continues to assist anyone who still may need to obtain these hours, and today's partnership announcement between Fast Forward Academy and Instant Tax Service hopes to further help any tax professional in need.
Instant Tax Service, a national tax company, is offering its franchise owners the opportunity to have their employees meet IRS RTRP requirements with web access to Fast Forward Academy CPE courses, which include an interactive dashboard to track employees' progress. Franchise owners will be able to take advantage of high quality CPE courses at a reduced cost and deferred billing until tax season.
Employees of Instant Tax Service franchisees who take advantage of this offer will be able to obtain 3 hours of federal tax law updates, 2 hours of ethics and 10 hours of other federal tax law, totaling the required 15 hours of CPE as per IRS regulations. Tax professionals can choose to either sign up for the CPE bundle or choose courses a la carte.
Fast Forward Academy President, Matt McBride, is pleased to be working with Instant Tax Service to offer more tax professionals the opportunity to complete their required CPE credits. "With just over two months left in 2012, many tax professionals still need to be able to complete their required tax education credits. Partnering with Instant Tax Service allows us to broaden our reach to a whole group of people in the tax industry, and offering a special rate for franchise owners who allow their employees to sign up for our CPE course allows more professionals to complete their tax preparer requirements on time. We look forward to maintaining such a positive relationship with Instant Tax Service."
Instant Tax Service is hosting a franchise conference at the end of the month, ICE 2012, during which time, it will make exact details of the agreement with Fast Forward Academy known. This conference takes place October 26–27 at The Greene Town Center in Beavercreek, Ohio.
About Instant Tax Service
Instant Tax Service has its head office in Beavercreek, Ohio, but the company has grown to include hundreds of franchise locations in 34 States. The company prides itself on a relaxed, laid-back, non-threatening atmosphere, where clients can enjoy a snack and beverage and their children can watch a video, all while getting their taxes prepared. Their team consists of business owners, tax preparers, store managers, marketing gurus, financing professionals, legal experts, and IT specialists. Instant Tax Service will be having its annual convention at the end of October.
About Fast Forward Academy
Fast Forward Academy, LLC provides companies and individuals around the world with the tools to help them efficiently manage their professional education needs. The name Fast Forward Academy reflects the scope of our mission—helping students and professionals accomplish more in less time. To realize this goal, we make every effort to provide the most useful and efficient exam prep material in the market place, all designed to help our students Learn Fast and Pass. Our principal focus is to supply rapid training and streamlined continuing education to professionals in the fields of taxation, securities and insurance.