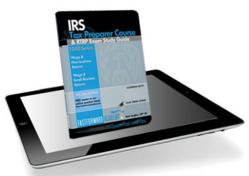 Over 100 students studying for the difficult RTRP exam took this class in New York and Chicago
Orlando, FL (PRWEB) September 05, 2012
Fast Forward Academy is pleased to announce that its live tax preparer training course, which students could take in either English or Spanish, was a huge success. These live classes, held in New York and Chicago, appealed to a greater diversity of students studying for the RTRP exam.
Taught by Hector Garcia (MSC in Taxation, MSC in Finance, Graduate Certificate in Accounting, BBA), each tax preparer training course consisted of 15 hours of total CPE and included a Fast Forward Academy RTRP Study Guide, Fast Forward Academy Free Test Bank and Unlimited Practice Exams. The 15 hours of CPE consists of 3 hours of federal tax law updates, 2 hours of ethics and 10 hours of other federal tax law.
Fast Forward Academy President Matt McBride is pleased with the outcome of this live tax preparer training course. "Over 100 students studying for the difficult RTRP exam took this class in New York and Chicago, showing there is a great need to offer both a live and online tax preparer course." McBride continues, "Students benefited from Mr. Garcia's years of experience and this live class, combined with Fast Forward Academy's online tax preparer classes, sets students up to be successful in the RTRP exam."
Students who participated in the live tax preparer course learned about such topics as Preliminary Work Taxpayer Data, Completion and Filing Process, Treatment of Income & Assets, Deductions, Credits and Other Taxes and Practices, Procedures and Ethics.
Fast Forward Academy hopes to offer more live classes in the future. All courses, whether live or online, are registered with the IRS and CTEC.
To learn more about how Fast Forward Academy can help you become a tax preparer, click here.
About Hector Garcia
Hector Garcia holds three post-graduate degrees and is an experienced accountant, trainer and tax preparer in Davie, FL, where he owns and operates Quick Bookkeeping & Accounting, LLC. Hector has previous experience working for such Fortune 500 companies as Best Buy, Circuit City, Bank of America and Wells Fargo.
About Fast Forward Academy
Fast Forward Academy, LLC provides companies and individuals around the world with the tools to help them efficiently manage their professional education needs. The name Fast Forward Academy reflects the scope of our mission—helping students and professionals accomplish more in less time. To realize this goal, we make every effort to provide the most useful and efficient exam prep material in the market place, all designed to help our students Learn Fast and Pass. Our principal focus is to supply rapid training and streamlined continuing education to professionals in the fields of taxation, securities and insurance.