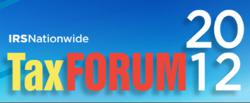 Orlando, Florida (PRWEB) July 22, 2012
On July 17-19, any registered tax preparer in the San Diego area was likely found at The IRS Nationwide Tax Forum 2012. This important event has already been held in Orlando and Atlanta, and San Diego was the third city to host the Tax Forum which offers IRS tax preparers the opportunity to enhance their tax education through workshops, guest speakers, networking opportunities and exhibitors. Fast Forward Academy once again participated as one of the exhibitors showcasing professional tax preparation training products.
The IRS Nationwide Tax Forum in San Diego happened at the Town & Country Resort and Convention Center at 500 Hotel Circle North. Registered tax preparers who attended this forum received hands-on professional tax preparation education via workshops, in addition to learning about topics such as Helping Your Clients Understand Their Rights, A Taxing Matter—Retirement, Employment Tax Issues, Issues Facing the Tax Professional and Trust Fund Recovery Penalty.
"We're happy to have participated in the Tax Forum in San Diego, being part of the largest tax convention in the country," says Fast Forward Academy President, Matt McBride. He adds, "Over 5,500 IRS tax preparers and other tax professionals attended the IRS Tax Forum in Orlando and Atlanta, and many of them were excited by our suite of training products."
Fast Forward Academy is a leader in developing high-quality educational products that assist tax professionals and CPAs with their training and in obtaining certification. Fast Forward Academy helps to increase the chances of passing the difficult RTRP and CPA exams. Some of the company's bundles include an Apple iPad, and the company offers an app which is available on Apple devices and Android phones.
Attending an IRS Tax Forum in any city qualifies registered tax preparers for the Continuing Professional Education (CPE) credits they need. Fast Forward Academy also offers CPE containing education credits.
To learn more about Fast Forward Academy, click here.
To learn more about the IRS Nationwide Tax Forum, click here.
About the IRS Nationwide Tax Forum
The IRS Nationwide Tax Forum is a three-day event that includes seminars on the latest tax law, hands-on workshops, networking opportunities and exhibits of the latest tax-related products and services.
About Fast Forward Academy
Fast Forward Academy, LLC provides companies and individuals around the world with the tools to help them efficiently manage their professional education needs. The name Fast Forward Academy reflects the scope of our mission—helping students and professionals accomplish more in less time. To realize this goal, we make every effort to provide the most useful and efficient exam prep material in the market place, all designed to help our students Learn Fast and Pass. Our principal focus is to supply rapid training and streamlined continuing education to professionals in the fields of taxation, securities and insurance.