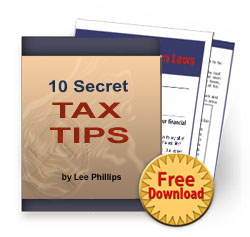 It's not unrealistic to cut someone's taxes by fifteen or twenty percent.
Siesta Key, FL (PRWEB) October 09, 2012
Tax tips that aren't often thought of may be the key to helping people survive the free fall as they go over the fiscal cliff and face Taxmageddon in 2013. LegaLees Corporation, a company that has specialized for thirty years in tax planning for the one percent, has released a set of ten tax tips that anyone can use to cut their tax bills.
"It's not unrealistic to cut someone's taxes by fifteen or twenty percent," said Lee R. Phillips, attorney and CEO of LegaLees Corporation. "That would give the average middle class tax payer two or three thousand more in their pocket each year. A couple of thousand extra each year adds up after a few years," he explained.
Predictions are that the average middle class taxpayer will pay an additional $4,000 next year because of the "fiscal cliff."
"Whatever they are called, the pending tax hikes will have everybody scrambling for any tax tips they can get to help relieve the tax pain going over the fiscal cliff will bring. It's going to be ugly," Phillips insisted.
"Accountants generally don't get deep into tax planning for the average taxpayer. Most people just take their numbers to the accountant or tax preparer and get their tax forms back to sign," said Hal Rosen, Salt Lake City CPA specializing in small business counseling.
"Tax preparation questionnaires always have spaces for deductions like the home mortgage deductions, charitable contributions, and medical expenses, but just plugging the numbers in on the form isn't tax planning. Tax planning is an every day exercise," said Phillips.
"The tax tips that LegaLees Corporation has released are intended to help people lower their adjusted gross income. That's very different than a tax tip that points out a standard deduction. Tax tips that just point out deductions like the home mortgage deduction, charitable contribution deduction, or other 'standard' deduction aren't really very valuable tax tips," said Rosen.
Standard deductions don't lower a person's adjusted gross income. Adjusted gross income (AGI) is the tax number that the IRS uses to base a taxpayer's tax rate on. It determines whether or not exemptions phase out, whether or not the alternative minimum tax applies, and dozens of other issues addressed by the IRS.
"If a taxpayer can use some tax tips and lower their adjusted gross income, they are accomplishing a lot more than simply getting a standard deduction. Tax payers have got to learn about adjusted gross income and how to put their AGI on a diet," said Phillips.
That's why LegaLees Corporation says it has prepared ten free tax tips anyone can use to lower their adjusted gross income.
"For those who are really in serious tax trouble and need help, Legalees has put together a two hour audio training program that is a step by step explanation of how to implement more advanced tax strategies. Isn't it worth a couple of hours of time invested in learning if the realistic return is a hundred times the investment," asked Phillips?