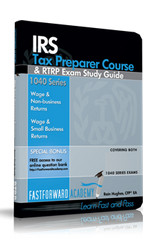 Not only are we considering this a huge accomplishment, but we continue to recognize the need for our quality tax products.
Orlando, Florida (PRWEB) December 06, 2012
Many Americans spent the days after Thanksgiving celebrating various secured retail specials as part of the annual Black Friday and Cyber Monday tradition, and Fast Forward Academy can count itself among these celebrated purchases. While holiday purchases were likely high on the list of frequent purchases, it seems that many tax professionals were also considering their career development among their shopping purchases. So much so, in fact, that Fast Forward Academy is reporting a 250% increase in sales of its tax training courses.
On both Black Friday and Cyber Monday, Fast Forward Academy offered 25% off its EA, RTRP and tax continuing education products. This sale appealed to a wide range of tax professionals, from those preparing to enter the industry by taking EA and RTRP exams to those currently working in the industry and in need of required continuing education credits.
Fast Forward Academy is considered a world leader in tax education products and prides itself on its high quality offerings. Students who use Fast Forward Academy products have a high chance of successfully passing tax exams on the first attempt. Both aspiring enrolled agents and registered tax prepares who sign up for Fast Forward Academy's IRS exam preparation packages have access to a developed test bank, unlimited practice exams, built-in social interaction options, individual study plans based on area of study most needed, and a community feature that allows students to rank themselves among other students preparing for the same exam.
Moreover, registered tax preparers and enrolled agents looking to complete IRS continuing education credits have many options in which to do so. Fast Forward Academy allows tax professionals to choose from standard online courses, video-based content, webinars, story-based content and premium content to complete requirements.
Every option meets IRS requirements and is listed based on the three required categories.
Fast Forward Academy president, Matt McBride, is thrilled at the response to last week's specials. "We were expecting some students to take advantage of our 25% special and sign up for various online tax training products," states McBride. "But to experience a 250% increase in sales in less than one week is overwhelming. Not only are we considering this a huge accomplishment, but we continue to recognize the need for our quality tax products. We hope to offer more specials for aspiring tax professionals in the future."
Click here to see how Fast Forward Academy can assist you develop your tax career.
About Fast Forward Academy
Fast Forward Academy, LLC provides companies and individuals around the world with the tools to help them efficiently manage their professional education needs. The name Fast Forward Academy reflects the scope of our mission—helping students and professionals accomplish more in less time. To realize this goal, we make every effort to provide the most useful and efficient exam prep material in the market place, all designed to help our students Learn Fast and Pass. Our principal focus is to supply rapid training and streamlined continuing education to professionals in the fields of taxation, securities and insurance.
###