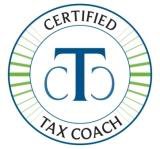 Taxpayers who really want to beat the IRS can't wait for their accountant to work magic with a stack of receipts on April 15
San Diego, CA (PRWEB) August 15, 2012
The American Institute of Certified Tax Coaches announces 10 new tax professionals have earned the highly regarded designation of a Certified Tax Coach. The CTC designation provides advanced training in proactive tax planning ensuring each attendee graduates knowing how to save their clients thousands of dollars that would otherwise be wasted on unnecessary taxes.
"Taxpayers who really want to beat the IRS can't wait for their accountant to work magic with a stack of receipts on April 15," says San Diego-based CPA and Director of the American Institute of Certified Tax Coaches, Dominique Molina, CPA. "They need a plan for taking advantage of every deduction, credit, loophole and strategy allowed, and that's where our CTC tax professionals can help."
The Certified Tax Coach program focuses on court-tested, IRS-appoved strategies for minimizing Alternative Minimum Tax, maximizing deductions from real estate and passive activities, maximizing retirement savings, and similarly powerful strategies. As taxes rise to cover increased government spending, this sort of proactive planning will become even more important in the future, according to the AICTC.
"Traditional tax professionals focus on putting the right numbers in the right boxes on the right forms," says Molina. "Our program is different. We don't just help our client's record history; we help them write it with a complete menu of advanced tax-planning concepts and strategies."
Every Certified Tax Coach attends the intensive, three-day proprietary training academy, and is required to attend 24 additional hours each year of continuing professional education in proactive tax planning to extend their specialized knowledge and keep the esteemed CTC title. This elite network of tax professionals includes certified public accountants (CPAs), enrolled agents (EAs), certified financial planners (CFPS), attorneys and financial service providers. There are fewer than 300 skilled professionals in 44 states who have achieved this specialized designation.
Below are the names of this month's celebrated CTC tax professionals:
Ron Morgan - EA and CPA from Wasilla, Alaska
Karen Spencer - Chino, CA
Mary Holder - Washington DC
Leslie Murphy - EA from IndiaAtlantic, FL
Tracy Weaver - Attorney and CPA from San Diego, CA
Carolyn Birmingham - CPA from St. Charles, MO
Kenneth Krantz - CPA from Laguna Hills, CA
Jon Neal - CPA from Milwaukee, WI
Jay Mangrum, EA - Houston, TX
Jimmy Long - Natchitoches, LA
For more information visit http://www.certifiedtaxcoach.com/
About The American Institute of Certified Tax Coaches
The American Institute of Certified Tax Coaches is an independent, not-for-profit corporation which trains and certifies tax professionals in the philosophy of proactive tax planning. The organization, which administers the Certified Tax Coach designation, upholds a strict Code of Ethics to ensure the highest standards of integrity and excellence among its members. The organization also offers a network of resources, ongoing education and joint venture opportunities to its members. Founded in 2009 in San Diego, CA by Ms. Dominique Molina, CPA and Edward Lyon, JD, Certified Tax Coach is quickly becoming the premier organization for helping business owners and investors keep more of what they earn.