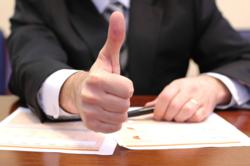 "Look for a payroll service that undergoes annual audits from an independent CPA firm," suggests Todd Schmitt, Treasurer of Patriot Software, Inc.
Canton, OH (PRWEB) May 15, 2013
The Wall Street Journal reports that some businesses were stunned to learn their payroll taxes were not paid by their payroll service. And worse yet, their payroll tax money and their payroll service had both disappeared. To avoid a similar disaster, Patriot Software, Inc., an online payroll software provider, lists four practices that small business owners can expect from a reliable payroll service provider.
1. Audits and Surprise Tests
"Look for a payroll service that undergoes annual audits from an independent CPA firm," suggests Todd Schmitt, Treasurer of Patriot Software, Inc. "The audit will check financial statements for standards of generally accepted accounting principles and material misstatements."
In addition, there may be surprise tests conducted by the independent CPA firm to examine the payroll process. Schmitt continues, "They will verify that the payroll tax money collected from the customer was properly handled and delivered to the correct taxing agency."
2. Full Disclosure
Wendy Smith, Patriot's Customer Service Manager, points out the account information that should be available to customers. "Does the payroll service clearly show when payroll taxes are due, the amount due, and when the taxes are paid?"
"Sometimes, customers need to communicate with a 'real person' when they have questions about tax deposits or filings," adds Smith. "Find out if the payroll service offers email, chat, or telephone options for customer support."
3. Checks and Balances
A payroll service needs to have checks and balances in place to ensure that tax funds received match the tax funds paid out. "Does the payroll service offer built-in checks and balances, constantly reconciling the records of deposits and filings?" asks Doug Simmons, Payroll Tax Specialist at Patriot Software, Inc. A payroll service's internal checks and balances may not be visible, so customers may need to trust the provider's claim.
Ultimately, payroll tax payment confirmation will be the definitive reassurance for a business owner.
4. Payment Confirmation
Simmons explains, "Some states require electronic filing, and the other states are moving in that direction. In the states that do have electronic filing, business owners have an online account where they can instantly check the status of their payment and easily monitor their tax payment status."
"If a state does not yet have electronic filing, the payroll service should give customers the correct number for your state to call for payment confirmation," Simmons says.
Conclusion
Forty percent of small businesses entrust their payroll and payroll tax service to a third party because the laws surrounding employment and taxes are complex and change so often. Yet, the reports about questionable tax practices by some payroll services raise concern among small business owners. Patriot Software, Inc., advises small business owners to be vigilant and make sure the selected payroll company is doing its job.
Patriot Software, Inc. provides simple software solutions for small business owners; including payroll and payroll tax filing services, website builder, human resources, and more. Their website's Declaration of Trust itemizes the protections they have in place for their customers.