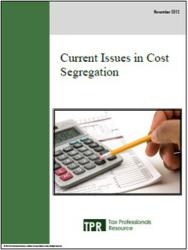 (PRWEB) December 06, 2012
Tax Professionals' Resource has recently published a new tax compliance white paper called "Current Issues in Cost Segregation," which outlines the pros and cons as well as the legal considerations related to cost segregation.
Businesses are always looking for a way to reduce tax liability in order to increase cash flow and expand the business, and cost segregation may be a successful technique for many professional entities. However, long term effects of cost segregation must be analyzed in order to determine whether the method of reducing current year tax liability will truly be beneficial to a company.
Cost segregation can be an effective technique for reducing tax liability in the current tax year and the near future, but a professional must first conduct a cost segregation study before any tax savings and cash flow increase can be properly determined. Calculating depreciation deductions according to the appropriate method of depreciation and schedule is essential to avoid penalties and fees related to an underpayment of taxes.
Download this white paper to:

Learn practical applications of cost segregation
Understand the disadvantages to cost segregation techniques
Learn the legal considerations related to cost segregation
Discover situations in which to avoid cost segregation strategies
This white paper, and other free tax compliance white papers, can be downloaded by visiting the Tax Professionals' Resource website at: http://www.taxprofessionalsresource.com/whitepapers/current-issues-in-cost-segregation?c=459
About Tax Professionals' Resource:
Tax Professionals' Resource is a training and development website dedicated to the enhancement of the tax profession. They are committed to the specific educational and developmental needs of members looking for unique, up-to-date tax training opportunities through audio conferences, seminars, webinars and articles. Members also gain access to product offerings and other educational tools that assist in securing their position at the forefront of their respective disciplines. Tax Professionals' Resource delivers an overall experience that gives their community of tax professionals a distinct competitive advantage.