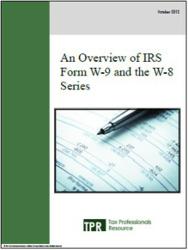 (PRWEB) November 08, 2012
Tax Professionals' Resource has recently published a new tax compliance white paper called "An Overview of IRS Form W-9 and the W-8 Series," which outlines the purpose of the IRS Form W-9 and W-8 series as well as when they should be obtained.
The Internal Revenue Service (IRS) Form W-9 and the IRS series of W-8 forms are integral to businesses and individuals making payments to employees, contractors or other persons to whom money is owed. The W-9 form is strictly for U.S. citizens and lawful permanent residents while the W-8 series of forms is used for foreign citizens and nonresident aliens receiving payments from the U.S. The purpose of these forms is to provide the IRS with pertinent taxpayer information for recordkeeping and tracking. The information that is tracked includes the amounts paid and any amounts withheld.
This white paper covers:

Payment types requiring Form W-9
Persons required to file Form W-9
Submitting Form W-9 electronically
Substituting Form W-9
Taxpayer identification numbers
The different forms included in the W-8 series
This white paper, and other free tax compliance white papers, can be downloaded by visiting the Tax Professionals' Resource website at: http://www.taxprofessionalsresource.com/whitepapers/an-overview-of-irs-form-w-9-and-the-w-8-series?c=459
About Tax Professionals' Resource:
Tax Professionals' Resource is a training and development website dedicated to the enhancement of the tax profession. They are committed to the specific educational and developmental needs of members looking for unique, up-to-date tax training opportunities through audio conferences, seminars, webinars and articles. Members also gain access to product offerings and other educational tools that assist in securing their position at the forefront of their respective disciplines. Tax Professionals' Resource delivers an overall experience that gives their community of tax professionals a distinct competitive advantage.