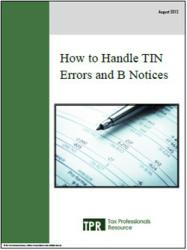 (PRWEB) September 06, 2012
Tax Professionals' Resource has recently published a brand new tax compliance white paper called "How to Handle TIN Errors and B Notices" that will help payroll and financial professionals who are responsible for handling B Notices.
Every year, thousands of businesses that send 1099 forms to payees are also required to send B Notices after receiving letters regarding incorrect or missing identification numbers. These letters, known as CP2100 and CP2100A notices, are sent by the Internal Revenue Service (IRS). These notices must be addressed quickly. Payroll and financial professionals who are responsible for handling B Notices should keep the tips outlined in this white paper in mind when preparing and sending such notices. Businesses should keep excellent records of their efforts to address B Notices in order to avoid long-term problems with the IRS and maintain tax compliance.
You can avoid the headache of sending multiple B Notices by diligently checking information transferred from W-9 forms to 1099 forms. While these practices won't prevent all CP2100 and CP2100A Notices, they can certainly cut back on those caused by simple clerical errors.
This white paper can be downloaded free of charge by visiting the Tax Professionals' Resource website at: http://www.taxprofessionalsresource.com/whitepapers/a/how-to-handle-tin-errors-and-b-notices?c=459
About Tax Professionals' Resource:
Tax Professionals' Resource is a training and development website dedicated to the enhancement of the tax profession. They are committed to the specific educational and developmental needs of members looking for unique, up-to-date tax training opportunities through audio conferences, seminars, webinars and articles. Members also gain access to product offerings and other educational tools that assist in securing their position at the forefront of their respective disciplines. Tax Professionals' Resource delivers an overall experience that gives their community of tax professionals a distinct competitive advantage.