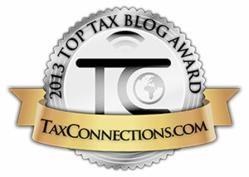 Top Tax Blogger Award Goes To Harold Goedde and Ronald Marini
(PRWEB) April 02, 2013
TaxConnections Announces Two Winners Of Top Tax Blogger Award – Harold Goedde and Ronald Marini
Four times a year, Tax Connections announces a Top Tox Blogger Award to recognize the outstanding contributions of the writers on our site. We are happy to annouce that there are two "Top Tax Blogger" winners during the first quarter 2013. The winners are Harold Goedde, Educator, CPA, CMA, Ph.D of Oneonta, New York and Ronald Marini, Tax Partner, BS, JD, LLM with Marini & Associates in Miami, Florida. They both are very deserving of the Top Tax Blogger Award given the prolific contributions they have made to educate our visitors to TaxConnections Worldwide Tax Blogs. Follow their work, it is outstanding!
Harold Goedde wrote articles about Five Rules For Inherited IRA's; Identity Theft, Phishing Top IRS's "Dirty Dozen" Tax Scams; Fifteen Things To Watch Out For On Form 1040-Parts I,II,III; The Complexities of Calculating The Accuracy- Related Penalty-Parts I,II,III; Tax-Exempt Bonds and Small Business Healthcare Tax Credit Take A Hit From Sequester; Tax Refunds Delayed By Educational Credit Programming Glitch; Developments in Individual Taxation-Parts I,II,III; Tax-Exempt Bonds and Small Business Health Care Tax Credit Take A Hit From Sequester; The Technology Conundrum: Taxation of Employer-Provided Mobile Device; Donating and Sharing Paid Time Off; No More Holds On EITC Returns; 2013 Automobile Depreciation Limits Released; Tax Refund Delays; AICPA Letter Requests Extension For 2010 Decedent Tax Forms; IRS Loses Lawsuit Challenging Authority To Regulate Tax Preparers; Form W-2 Reporting Of Employer-Sponsored Health Coverage; Nina Olson: Taxpayers' Voice At The IRS; Retroactive Procedures Implement Qualified Transportation Fringe Benefits Parity For 2012; IRS Announces Simplified Safe Harbor Home-Office Deduction; Start of Season Delayed: Janaury 30th For Some Taxpayers; The American TaxRelief Act of 2012(The Fiscal Cliff Compromise) Parts I,II; IRS Raising Limits On Retirement Contributions 2013; The Fiscal Cliff- Part I; Documentation of Chartible Contributions; Planning For The 3.8% Medicare Tax On Net Investment Income; IRS Proposed Regulations For The Surtax On Net Investment Income; Criteria For Federal Income Tax Filing Statuses-Part I,II; The Savers Credit; Criteria For Federal Income Tax Filing Status, Part I,II; Additional Incoem Tax Tips; and Planning To Minimize Taxes in 2013 and 2013.
Ronald Marini wrote articles about Another Former British Colony Acccepts Automatic Reporting To UK & US Through UK FATCA; Professional Golfer Sergio Garcia Whiffs Tax Case Regarding US Tax on Image Rights; Criminal Investigations On The Rise; The IRS Revokes Amnesty To US Taxpayers With Israeli Bank Accounts..They Must Be Feeling Faclept; The IRS Released Its Winter 2013 Statistics Of Income Bulletin; The Time To Apply For Mexican Tax Amnesty Is Quickly Running Out; 3.8% Medicare Investment Tax On CFC's And PFIC's Income; DOJ Wins $1 Billion Tax Shelter Case Against Dow Chemical; What…More Reporting Requirements In Addition To The Dreaded FBAR Report; Get Ready For The EU TIN…Coming To Europe Soon; Are You An IRS Audit Target- Parts I,II; Why Do Celebrities Have Tax Probems?; How To Report Your Trivbal Trust Settlement To The IRS; Swiss Sign FATCA Deal With US TO Crack Down On US Tax Dodgers; IRS Whistleblower Program Is In High Gear; OECD Could Lead To Redefining Global Taxation Rules; IRS Issues Memorandum For Obtaining An ITIN When Requesting ASFR/SFR Reconsideration; Asia Is A Huge Hurdle For FATCA Agreements; Foreign Trusts With Individual Trustees Are NFFE's And Are Not Subject To FATCA Reporting; Swiss To Accept Group Requests For Bank Information From Other Countries Starting February 2013; IRS Proposes Regulations and Guidance For Whistleblowers; Switzerland Agrees To US FATCA Implementation; IRS- New Program Targets Underreporting By Form 1099-K Taxpayers; IRS Posts Updated ITIN Procedure; Mexican FATCA Agreement Requitres New Reporting By Both Mexican and US Banks; Picket and Bank Frey Added To Widening US Probe of 13 Swiss Banks; 2013 Brings Increased IRS Scrutiny of Partnerships and Passthrough Entities; Mexico Becomes The Third Country To Sign A FATCA Agreement; UK Mini-FATCA Agreement Spells The End For UK Tax Haven Territories; IRS Increases Tax Audits; Mexican Land Trust Not A Trust For US Tax Purposes; The United States and Denmark Signed FATCA Bilateral Agreement; IRS To Modify Offers in Compromise; Bank Should Brace For FATCA Cliff As Deadlines Converge; Holders Of Foreign Bank Accounts Need to Worry About IRS Data-Mining Program; Taxpayer Advocate Suggests Common Sense Changes To OVDI; Bahamas, Panama and Other Countries Cannot Comply With FATCA; US Engaging With More Than 50 Jurisdictions To Curtail Offshore Tax Evasion; and FATCA Intergovernmental Agreements.
TaxConnections Worldwide Tax Bloggers Awards are deserving of this special designation. We want to encourage you to follow our tax bloggers by going to TaxConnections and click on Tax Blog at the top of the screen.
Tax Connections is a professional media site focused on building visible tax brands through an interactive Worldwide Directory of Tax Professionals. In one click, you can find tax professionals, tax answers, tax blogs, tax events and tax services around the world. With tax professionals from more than 65 countries as members, and visitors from 149 countries within the last year, the internet startup is growing steadily.
TaxConnections was founded by CEO Kat Jennings in order to provide consumers with hyper-speed access to a wide range of tax services and tax expertise. Headquartered in La Jolla, CA, the company provides an ideal platform for tax professionals to market their tax services; and connects consumers to tax professionals with a wide range of tax skills and expertise. For more information, you can email a message to contact(at)taxconnections(dot)com or visit http://www.TaxConnections.com