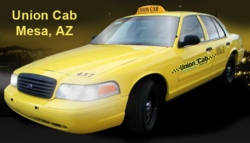 We value every customer that trusts us with their transportation needs. That is why we set up this new division, to serve them.
Chandler, AZ (PRWEB) July 23, 2012
Union Cab AZ, a Chandler Taxi Service adds new division allocated to dial-in customers. When it comes to waiting for a taxi Chandler residents don't like waiting long periods of time, especially in the 110-155 degree temperatures where this can be harmful to their health. Sometimes the wait can be more than an hour or even up to two hours in this hot Arizona weather. Some wait times get to be this long during the busy times of the week, or if there is a major sporting event happening. According to one customer, "when I called for a taxi cab, I was shocked to hear it would be up to two hours until someone could pick me up, so I called another taxi cab company which got there much faster". The reasons for this long wait time might be surprising to most people
It is a little known fact that many of the larger taxi cab companies in Arizona have large contracts with insurance companies, or other large health or businesses that require large volumes of transportation. While this is good for these companies to be able to save money by arranging these contracts, the taxi companies often neglect the call-in customers. For these large companies, the choice is between a new customer calling in, and someone under contract, with which they will serve their customer under contract first, leaving the call-in customer waiting, sometimes for long periods of time. While this is understandable from a business perspective, however the person waiting for a taxi may not think so.
This is why Union Cab AZ stepped up to the plate and decided to establish a separate division for call-in customers. This new Chandler taxi division makes Union Cab AZ different than many of the other taxicab companies in that they have allocated a special division to just call-in customers. Their belief is that all customers should receive the same high level of service. Union Cab AZ has noticed a significant drop in complaints and even better a lot of great testimonials and reviews being written about their attention this customer base. This alone says volumes about what the customers are wanting. Want to see how fast their service is now? Just give them a call and find how fast this services is.
To contact Union Cab AZ you can find them at http://www.unioncabaz.com or call them at 480-303-9999