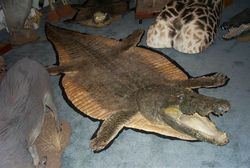 It's like visiting a museum
Fort Worth, Texas (PRWEB) October 24, 2009
A 13-foot Crocodile rug with open jaws and a 164 pound tusk of an extinct Mastodon are among 850 exotic and unusual taxidermy mounts and artifacts being liquidated at auction in Fort Worth, Texas. The hunting trophies, animal rugs, fish and bird mounts being offered to the general public at the World Class Big Game Trophy & Western Auction are from private collections of renowned big game hunters and natural history museums.
Gain instant respect when your guests see a crocodile rug on your living room floor. Or add a towering 10-foot Grizzly Bear to your game room for a little fun. "You'll be the only one on the block with one," said John Brommel, owner of the Corner Shoppe in Austin and sale organizer. Among other unusual mounts and artifacts are two Giraffe pedestal mounts, a 200 pound pair of elephant tusks, a museum reproduction Bald Eagle and a Rhinoceros skull. "It's like visiting a museum," said Brommel. In addition to animal taxidermy mounts, of which a large number are record book, of note is a Colt 1883 hammerless shotgun stamped Wells Fargo said to have been used in the San Saba bank in that period, a rare Ming Dynasty porcelain plate, pre-Columbian artifacts, 2000 year-old pottery and colonial period relics.
Of the hundreds of species of exotic and native animals offered there are a number of Bears, including three 10-foot Bears, one Grizzly and two Brown Bears, one a record book; plus a Polar Bear. The sale contains about 35 full body mounts such as Leopard, Baboon, Snow Sheep, Red Fox, Peacock, Bighorn Sheep, Spring Bok, Klipspringer, Elk, Chamois, Iranian Red Sheep, Scimitar Horned Oryx, Lion and Bobcat. Shoulder and half body mounts include American Buffalo, Lesser Kudu, Addax, Spanish Ibex, Himalayan Tahr, Caribou, Mule Deer, Rhone Antelope, Impala, Longhorn, Dik Dik, Hippo, Wart Hog, Kob, Topi, Russian Boar and many others. There are also hundreds of bird taxidermy items, fish trophies such as Sailfish and Largemouth Bass, plus small game animals like Badger, Coyote and Raccoon. The rare and unusual items are suitable for display over a pool table or in beach homes, cabins, restaurants and bars.
In addition, there is a large selection of furniture and accessories such as framed art, unique bronze animal and western statuary, cowhorn chairs, antler chandeliers, rustic décor items, metal art, antlers, horns, African spears and carvings, area rugs and fine teak and zebra hide furniture. The Cowboy and Indian collectibles include arrowheads, Indian jewelry, chaps and spurs.
The sale also contains Remington, Browning, Marlin and Japanese Military firearms, traps, knives, saddles, fossils, ivory, and skulls including Leopard, Longhorn, Giraffe, African Lion, and Cape Buffalo. There are numerous high quality hides like Zebra, Springbok, Axis Deer, Alpaca, cowhides, Buffalo and Tibetan Lamb; plus Zebra, Leopard, African Lion, Grizzly Bear and Polar Bear rugs.
The auction is Friday, October 30th starting at 11am and Saturday, October 31st at 10am, at the Will Rogers Memorial Center, 1 Amon Carter Square, Exhibits Building 1 in Fort Worth, Texas 76107. The preview is Thursday, October 29th from noon to 5 pm and Friday, October 30th from 10 am-11am. For more information visit http://www.TaxidermyKing.com or call John Brommel at The Corner Shoppe (512) 451-7633 or week of auction at (817) 338-4801. Auctioneer Bruce McCarty TX#11698.
Media contact: Amy McMurrough, McMurrough & Associates Marketing and Public Relations (512) 252-7200, Amy at McMurrough dot com.
# # #