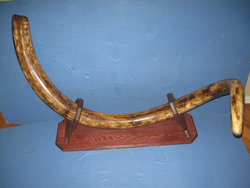 We will break our sales record with this collection
Fort Worth, Texas (PRWEB) October 14, 2008
The roughly 6000 year-old tusk of a woolly Mammoth, valued at $50,000 to $60,000, is up for auction at the World Class Big Game and Trophy Mount Western Auction starting this Friday. Another highlight is a very rare Southern White Rhino taxidermy mount in the 1400 item sale of other trophy and unusual mounts, African wildlife art from major artists along with firearms, African and western dïr pieces. The auction items are from two natural history museums and private collections of several estates, including the personal trophy room collection of Will Clay Perry, real estate developer from the Sugarland, Texas area.
A large portion of the sale is from the total liquidation of a natural history museum and the personal collection of big game hunter, Will Clay Perry. Perry's 2000 sq. ft. trophy room collection of approximately 500 items is being sold off through a court-ordered bankruptcy liquidation. His collection contains rare and unusual items such as a Woolly Mammoth Tusk weighing 150 pounds and measuring ten feet in length along with a Southern White Rhino valued at $20,000. His collection also contains 20 hunting firearms, animal bronzes, furniture, dïr pieces such as intricate ivory, bone and African wood carvings plus 100 large estate-size African wildlife paintings and prints, some valued up to $20,000, from renowned artists. Those artists include the works of John Banovich, Simon Combes and Terry Frost.
"We will break our sales record with this collection," said John Brommel, owner of the Corner Shoppe in Austin and sale organizer. The sale is expected to top one-half million dollars. "It is one of the largest and best ever to be sold anywhere." The auction includes examples of hundreds of species of African and North American animal, bird and fish mounts, including record book items, a rare Walrus shoulder mount, an Elephant mount, 38 full body mounts such as Sables, Gemsboks and Lions along with a Giraffe pedestal, Leopards, Hippos, Rhinos, an Alligator, Sailfish, Boone & Crockett White Tail Deer, Nyala, Russian Boar, Dik Dik, Velvet Monkeys and numerous Bears. Other dïr items are moose and deer antler chandeliers and lamps, benches and tables, huge African carved masks, skulls, including that of Cape Buffalo and Elephant, African spears, fossils, horns, traps, Black Bear, Grizzly Bear, Zebra and Leopard rugs with hides from 12 species including Zebra and Fox. Western artifacts include chaps, spurs and Indian collectibles.
The general public can preview items for sale on Thursday, October 16th from 1pm to 7pm and Friday, Oct 17th from 10 am to 11 am at the Will Rogers Memorial Center, 1 Amon Carter Square, Exhibits Building 1 in Fort Worth, Texas. The two-day auction is Friday, October 17th, starting at 11am, and Saturday, October 18th starting at 10am with bidding available by floor, phone and absentee. The auction runs until about 8 pm each day. Some items are sold only within the state. For more information visit http://www.TaxidermyKing.com or call John Brommel at The Corner Shoppe in Austin at 512-451-7633 or week of auction call 817-338-4801 or 512-626-8824. Bruce McCarty auctioneer #11698.
###