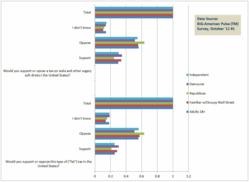 Princeton, NJ (PRWEB) October 19, 2011
For years Americans have been debating the subject of fat taxes or food sin taxes. Articles on the pros and cons of taxing unhealthy food items such as saturated fats, sugar and soda are readily available with a single query to your favorite search engine.
With Denmark's October passing of a country-wide "fat tax" on food items such as butter and pork fat, the issue of taxing unhealthy foods is back in the conversation about driving healthy behavior, controlling health care costs and generating tax revenue. The full thirty-two question poll, conducted in October by BIG-American PulseTM Survey, covers a wide range of topics.
FoodAndBeveragePeople.com focuses on the 9 questions related to taxing saturated fats and soda.
Key Questions Asked

Do you think Denmark's "fat tax" is a good idea?
Do you think a "fat tax" would help reduce obesity?
Do you think a "fat tax" would lower the cost of healthy foods?
Would you support/oppose a tax on soda and sugary soft drinks in the U.S.
For more information and the full food tax survey findings visit http://www.foodandbeveragepeople.com/cm/news/american_opinions_fat_tax
About the website: FoodAndBeveragePeople.com ( food and beverage people dot com ) is for and about the people that drive the food and beverage industry in the United States. Industry professionals at every stage of their career will find news, newsmakers, jobs and industry trends that will help inform their business and career decisions.
Individuals needing to keep up with the vast food and beverage industry, but with little time to spare, can sign up on the site for free e-mail newsletter service or follow us on Twitter @foodandbevbiz .
###