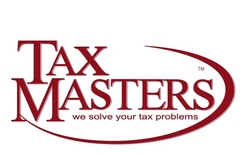 Houston, TX (PRWEB) April 30, 2010
TaxMasters, Inc. (OTC Bulletin Board: TAXS.OB), the nation's first publicly traded tax resolution firm, today announced the company is postponing its previously announced recorded review of full year 2009 financial results.
TaxMasters had previously scheduled the recorded review of its full-year 2009 financial results for today, Thursday, April 29, 2010. This audio review has now been rescheduled to May 28, 2010, pending Mr. Cox's return from visiting U.S. troops stationed in Iraq. The company had previously announced that it has joined as a sponsor of the Rick Trevino Vamos a Honky Tonk Tour sponsored by Armed Forces Entertainment. Mr. Cox joined the tour currently in Iraq.
The company's full-year financial results for 2009 can be reviewed in detail via its website at txmstr.com and via its 10K filing with the SEC.
About TaxMasters, Inc.
TaxMasters, Inc. (OTCBB: TAXS), the IRS tax relief company, is the first publicly traded tax resolution firm in the United States. Started by Patrick R. Cox in 2001, TaxMasters offers services and counsel to taxpayers across the country facing seemingly insurmountable tax problems, and relief from substantial federal tax debt.
Employing over 300 people, TaxMasters leverages the expertise of ex-IRS agents, enrolled agents, attorneys, CPAs, and seasoned tax consultants ready to counsel and assist every day people with their specific tax problems today.
For more information about TaxMasters, Inc. and its commitment to help taxpayers in the United States solve tax problems, please visit txmstr.com.
Follow TaxMasters on Twitter at twitter.com/gotaxmasters.
Visit TaxMaster's blog at txmstr.com/blog/
Forward-Looking Statements
Any forward-looking statements, as defined in the Securities Exchange Act of 1934, in this release (often identified by such words as "believes," "expects," "beginning," "intended," "planned") regarding future expectations, objectives, and plans for TaxMasters, Inc. are based on opinions and estimates of management at the time the statement was made. Various known and unknown factors may cause actual results to be materially different from the expected outcomes. TaxMasters, Inc. does not, as a matter of policy, update or revise forward-looking statements. Actual results may vary materially.
Company:
TaxMasters, Inc., Houston
DeWayne Logan
281.497.4226 x2061
Investors/Media:
Gregory FCA Communications
Paul Johnson
610.228.2113
###