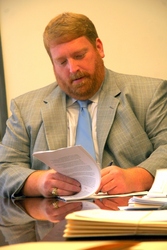 Houston, TX (PRWEB) August 10, 2009
TaxMasters, Inc. announced today that on August 4th it closed the transaction outlined in its June 3, 2009 letter of intent with Crown Partners, Inc. As provided in that letter of intent, Crown Partners acquired 100% ownership of TaxMasters, Inc. by the issuance of shares of its common stock and preferred stock to Patrick R. Cox, TaxMasters' sole shareholder.
TaxMasters is a Nevada corporation that assists taxpayers in achieving IRS tax relief by resolving tax matters with the Internal Revenue Service, particularly with disputes over assessed liability and liability settlements. TaxMasters operated from 2001 through 2009 in Houston, Texas under TMIRS Enterprises, LP, founded by Patrick R. Cox. On April 6, 2009 TaxMasters, Inc. organized as a Nevada corporation as the successor in interest to TMIRS Enterprises, LP while maintaining its headquarters in Houston, Texas.
Under the terms of the acquisition and prior to the closing, Crown Partners declared a reverse stock split of 20 to 1, changed its name to "TaxMasters, Inc.", increased its authorized capital stock, and made other amendments to its Articles of Incorporation.
At the closing on Tuesday, August 4th, the pre-closing Crown Partners' directors issued the Company's control series of preferred stock to Mr. Cox, giving Mr. Cox control of the corporation, elected Mr. Cox as a director, and resigned their positions, whereupon Mr. Cox elected a new Board of Directors including himself. The Chairman of the Board is Patrick Cox. Board Directors include Michael E. Holdgrafer, Dr. David M. Hyink, J. Scott Milholland, and Richard Wright. The corporate officers who were then appointed include Alex Clamon (VP Marketing), Paulette Kitson (VP Human Resources), Chris Koscinski (VP Finance), Renee' Miller (VP Operations), Kevin Schmidt (Corporate Information Officer), and Michael L. Wallace (General Counsel).
A closing and announcement party followed and was attended by TaxMasters' employees, friends, and some of the members of the new Board of Directors. Mr. Cox spoke briefly about what the public company positioning meant to the company and to each of the employees. A mood of celebration and of excitement accompanied the announcement as TaxMasters entered this new phase of its evolution.
Contact:
DeWayne Logan
281-760-4758
http://www.txmstr.com
# # #