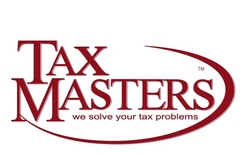 Houston, TX (PRWEB) August 17, 2009
TaxMasters, Inc., received its stock trading symbol of TAXS, effective August 12, 2009. The issuing of the symbol means that TaxMasters is now officially a publicly traded company. This event is the direct result of the August 4th closing in which Crown Partners, Inc. acquired 100% ownership of TaxMasters, Inc. by the issuance of shares of its common stock and preferred stock to Patrick R. Cox, TaxMasters' sole shareholder at the time of closing.
TaxMasters offers IRS tax relief services and assists taxpayers by helping them resolve tax matters with the Internal Revenue Service. The tax resolution services offered include tax settlements, IRS audit defense, levy and lien assistance, and help with regaining compliance with the IRS.
Contact:
DeWayne Logan
dewayne (dot) logan (at) txmstr (dot) com
281-760-4758
http://www.txmstr.com
###