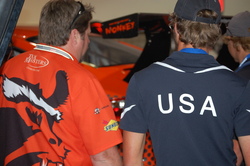 Houston, TX (PRWEB) August 16, 2009
TaxMasters, Inc. was thrilled at the results driver Tony Rivera and the Brass Monkey Racing team achieved last Sunday at the Toyo Tires Mid-Ohio Grand Prix Presented by Dish Network in Lexington, Ohio. Rivera piloted the #97 TaxMasters Porsche to a second place finish behind Brandon Davis in the #10 Applied Computer Solutions/Sun Microsystems Ford Mustang Cobra. Davis started in the pole position and built a lead that proved too large for Rivera to make up.
Qualifying fourth, Rivera was set up to make an inside pass on third-starting James Sofronas on the opening lap. Sofronas took a defensive line forcing the two to run side-by-side through a tight series of turns. After some side-by-side contact, Rivera pulled ahead and set his sights on second place Andy Pilgrim.
Pilgrim was forced off the track by a broken transmission output shaft with a dozen laps left in the race and Rivera closed the gap to first-place Davis to as little as 0.997-second in the closing laps. For running the fastest lap of the race, Rivera earned a Débaufré Swiss watch. But, that's not all he won.
As part of TaxMasters' one-year sponsorship of the Resident Athlete and Jr. Dream Team programs at the Arco Olympic Training Center in Chula Vista, CA, every trip Rivera makes to the podium during the 2009 SCCA Pro Racing SPEED World Challenge GT season results in an additional $5,000 contribution to US Archery.
TaxMasters' Patrick Cox was thrilled to reward the Olympic archery hopefuls with another $5,000, bringing the total contribution to US Archery to $40,000 on the year. The archery hopefuls train under legendary Coach Kisik Lee and are working to qualify for the 2012 Olympics that will take place in London.
TaxMasters offers IRS tax relief services and assists taxpayers by helping them resolve tax matters with the Internal Revenue Service. In addition to US Archery, TaxMasters and TaxMasters Racing are proud supporters of USA Cares, Boy Scouts of America, Texas A&M University, Meals on Wheels/Interfaith Ministries, and Employer Support of the Guard and Reserve (ESGR).
Contact:
DeWayne Logan
dewayne (dot) logan (at) txmstr (dot) com
281-760-4758
http://www.txmstr.com
###