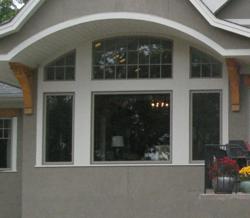 Some "super efficient" models (windows) meet the federal government's energy efficiency criteria, qualifying them for federal tax credits of up to 30 percent of the purchase and installation cost. ~ VELUX America Inc.
Minneapolis, MN (PRWEB) January 16, 2013
Congress passed The American Taxpayer Relief Act of 2012 on January 3, giving American homeowners a tax credit for energy efficient upgrades planned for 2013, or made in 2012. As a long-term and cost-effective solution for saving energy, window film was added to the qualifying list for tax credits as part a building's 'insulation envelope' on Jan 15th. Homeowners that weather the long Minnesota winters gain from windows that permit daylight-filled homes, keep the cold at bay, and gain a tax credit.
Allowing in natural light without drafts or the negative impact of UV exposure can be both low cost, a homeowner tax incentive, and effective.
Destiny Homes owner Butch Sprenger says, "Homeowners who gain the tax credit will find 10% of material cost included, up to $200 for replacement windows and skylights, and exterior doors that meet EnergyStar requirements. Windows must be equal to or below a 0.30 U factor and a Solar Heat Gain Coefficient (SHGC) of 0.30. Storm windows that meet the IECC in combination with their paired external window should be eligible. Storm doors paired with U-factor rated wood doors are eligible as long as they do not exceed the default U-factor requirement for the combination."
"Turning on a few extra lights an setting lamp timers to come on earlier is a natural response, but what your body really craves is more daylight. Simply switching on a few more lights won't cut it", comments Sprenger. Typical interior artificial home lighting can't replicate the power of daylight to brighten a home. For example, standard indoor lamps produce only 100 to 1,000 lux (a measurement of light intensity). Compare that to the 50,000 to 100,000 lux of a sunlit sky. Even an overcast day can generate 10,000 to 25,000 lux," according to Wikipedia under the topic of "lux". That's why even great interior lighting, although cheering, doesn't reach our biological need.
Benefits Destiny Homes sees of daylight-filled homes from window upgrades go well beyond gaining a tax credit. A few include:
1) Sustainability:
Natural lighting is an important tool in attaining sustainability. The generation of electricity is one of the largest contributors of pollution in the United States, which produces harmful chemicals such as sulfur dioxide, carbon and mercury emissions. For a greener home, a reduction in the use of artificial lighting is vital. Talk to your home builder about embracing natural lighting for your unique location and home's features.
2) Savings Through Lower Utility Costs:
If you are replacing drafty windows or installing new windows, doors or skylights, you can reduce energy costs by installing energy-efficient windows, doors, and skylights in your home renovation.
3) A Healthier Home:
Natural lighting can naturally lessen the production of harmful organisms and sunlight is considered to be one of the best natural disinfectants. Sunlight in ample amounts in known to prevent vitamin D and B1 deficiency that may cause diseases such as rickets and beriberi. The Centers for Disease Control and Prevention considers natural light such an important part of good health that they include it on their list of Basic Principles of Healthy Housing.
4) Seniors Living At Home:
Older Americans have less trouble reading and moving around safely when their homes are filled with natural light. Daylight-filled homes provide a source of illumination brighter than most artificial light, which can help prevent trips and falls in the home.
5) Student Studies
Student studies improve from natural light over other forms of artificial lighting.
"No matter where your windows are located, they let light in during the day. Build your home so that the rooms you use most during the day receive maximum light and you may never have to flip a switch until the sun sets. It seems like a tiny thing, but every hour you light your home without artificial means, you put a dent in your electric bill and carbon footprint. Over the course of a year this simple energy saving tactic can have a sizable impact," says a National Geographic article titled The Importance of Natural Light in an Eco-Home.
Minneapolis home builder Destiny Homes strategically places windows featuring the perfect balance of daylight at just the right time of day that bring a home's interior to life and can gain a homeowner tax credit too. Call Butch at 952-934-5706 for Minneapolis and St Paul area home renovations and home improvements.