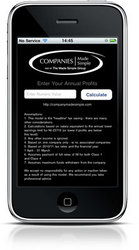 Will I save tax being a Sole Trader or a Limited Company? Find out with this free Tax Saver App. Available at the iPhone App Store.
(PRWeb UK) October 11, 2010
Whether you are an entrepreneur about to start your own business, or a sole trader company that has been trading for many years - as a business owner, you should always be looking how to optimise your tax position.
After all, no one wants to be paying more tax than is necessary.
Companies Made Simple has formed over 150,000 companies in the UK - and as one of the UK's leading online company formation registration agents, offer start up and small businesses a significant amount of advice about starting out.
One key area to consider is whether you are better off, from a tax position, to be a 'Sole Trader' or is it better to form a 'Limited Company'.
There's an extremely complex series of tax calculations that need to be considered when determining which route is best. And this is where the simple to use 'Tax Saver App' comes into play.
Companies Made Simple has recently launched their new 'Tax Saver App' - whilst the app is neat and highly complex tax calculator Simply type in your estimated or actual annual profits - and the 'Tax Saver App' will deliver how much tax you could save whether Limited Company or Sole Trader.
Very quickly, you're able to see which is the most cost efficient route for you. And if you want to form a limited company there and then, this neat app enables you to hook up to the Companies Made Simple online company formation website, where you can form a limited company from as little at £16.99 + Vat.
Tax Saver App is approved by the Institute of Chartered Accountants in England and Wales (ICAEW) and is now available via the iPhone App Store.
# # #