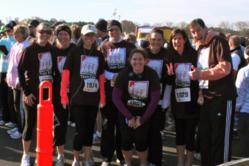 "I feel very blessed to have so many friends and colleagues who joined 'Team Egan'..."
LAMBERTVILLE, NJ (PRWEB) November 29, 2011
TayganPoint team members, dressed to impress in their running shoes and team shirts, banded together with throngs of racers at the Autism Cares Foundation's annual Race for Resources on November 12.
TayganPoint co-founder, Joy Taylor's daughter, Egan, was diagnosed with autism in 2007. She and her family are very active in the Autism Cares Foundation. "I feel very blessed to have so many friends and colleagues who joined "Team Egan" and came out to support such an important cause," Taylor said.
Members of "Team Egan" had a wonderful time roaming through Tyler State Park and enjoying all the expositions at the race. Taylor and her family led a team of power walkers on a two mile walk through the park, while Team Egan's runners battled steep, challenging hills in the 5K and 10K races.
"The autism race was the second time I ran in a 5K," said Susan Campbell, Marketing and Public Relations Director. "I really had a good time. I wasn't sure I could do it and when I finished I felt a sense of accomplishment!"
"Team Egan" raised more than $4,300 for the Race for Resources, the fourth highest team donation. Overall the Autism Cares Foundation raised more than $110,000 – all of which will go towards building a resource center in Bucks County. The resource center will be a place where parents of children with autism can come and talk to individuals in a similar situation; it will also serve as a living facility for children and young adults when their families can no longer care for them.
About TayganPoint Consulting Group
TayganPoint Consulting Group, a boutique management consulting firm based in Lambertville, N.J., is dedicated to helping companies solve their most pressing business issues, improve business performance, and achieve measurable, sustainable value. A certified Women's Business Enterprise (WBE), TayganPoint specializes in strategy management, process design and process improvement. The firm provides consulting services to many Fortune 500 companies, helping them solve their most pressing business issues.
###