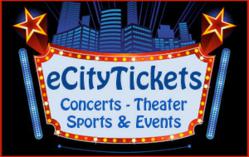 As one of the leaders in the secondary ticket sales market, you can always count on eCityTickets to have great seats for that close up concert experience.
(PRWEB) December 06, 2012
As fans clamor to buy Taylor Swift tickets for her 2013 RED tour, the essence of the color red is apparent. Red is the warmest of all colors, and is a fitting description for Swift's fan base, which also exhibits the increased enthusiasm, interest and energy as well as the action and confidence that red represents. Thus, RED, the name of her new album and supporting tour, is definitely appropriate.
The country-pop princess will hit the road early in the year, kicking off the tour on March 13 in Omaha, Nebraska. It will be a concert marathon, spanning the United States and Canada with 58 dates throughout the spring and summer. Swift announced that the tour will be making stops in 45 cities, 29 states and 3 provinces, including 9 stadium events. The Taylor Swift tour is expected to stretch through September 21, ending in Nashville, Tennessee. Notable cities on the itinerary include Miami, San Diego, Salt Lake City, Toronto, Winnipeg and Vancouver.
Special guest Ed Sheeran, two-time BRIT Award-winning singer and songwriter, will be joining Swift throughout the duration of the tour. Sheeran became an instant rising star with the single "The A Team", the highest-charting and biggest-selling debut single in Britain for 2011. As this single continues to climb the charts in the US, Sheeran's popularity is also apparent as his latest album, "+", debuted at number 5 on the Billboard 200. Taylor and Ed have already proven sensational together, as their duet "Everything Has Changed" from the RED album hit No. 1 on the all-genre Top Songs chart in iTunes.
Even though this Taylor Swift concert tour is becoming one of the most-anticipated musical events of 2013, Swift remains humble and never ceases to put her fans first.
"I didn't think I could be any more excited about my RED album," Swift states on her website. "But then I start thinking about how I'm going to put the new show together for the RED Tour. I have so many ideas about how to really bring this music to life, and I can't wait to share the new show with all my fans!"
The RED Tour will be just as epic and wildly successful as Swift's best-selling Speak Now tour. As a singer and songwriter with a true musician's heart, Swift can command a stage like no other. While playing piano, guitar, ukulele and banjo guitar for her biggest hits and fan favorites, she mesmerizes the crowd with costumes and backdrops that create a stunning audience experience. As such, it is highly probable that Taylor Swift tour performances will completely sell out, even in the secondary ticket market.
Tickets for the RED Tour have been selling like hotcakes from coast to coast and the tour dates are booking up extremely fast. Fans are trying to avoid the disappointment of missing such a popular tour. As one of the leaders in the secondary ticket sales market, eCityTickets.com is always pleased to provide great VIP and Fan Packages for Taylor Swift tickets for the ultimate concert experience.