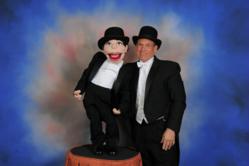 Taylor Mason was amazing!! We all laughed so hard our faces hurt after the evening was over! We had a blast!
Nashville, TN (PRWEB) July 30, 2011
Award winning comedian and Thou Shalt Laugh Host Taylor Mason announces a new tour this fall. Combining music, stand-up comedy, audience participation and his one-of-a-kind, off-the-charts world-class ventriloquism, comedian Taylor Mason will take to the road this year performing sold-out shows across the USA.
Mason's comedy, music, and theater is a breathe of fresh air in an industry once stifled by smoky backrooms, stale food, and cheap jokes. Taylor Mason is a cutting-edge entertainer who masterfully incorporates creativity, improvisation and timing that seamlessly intertwine. His personal appearances win over every audience in any venue. And while some comedians are limited to adults, Taylor connects with all age groups, and has forged a corporate niche that appeals to audiences large and small, on any stage. Only Taylor Mason is able to bring a smile to a 3 year preschool daughter and side splitting laughter to her CEO dad.
Whether it's "Paco the Pig" who is frightened of bar-b-q and football, "Sumo" who somehow always ends up in the arms of an adoring audience member with hilarious results, or "Romeo" espousing his definition of politics - Taylor takes his audience on a whirlwind trip of laughter and applause.
And don't forget the music! His theme song, "Here We Go" is a nightly staple, with a catchy refrain that has everyone singing along. "The World's Worst Blues Song" segues perfectly into "The Marriage Blues," which defines that institution for men and women alike. Nobody boogies like Taylor Mason, who has written, produced and directed music for television, theater and video, and his high-energy, barrel-house style raises the roof every night.
Taylor''s takes on everything from bike riders who wear spandex "uniforms" every time they ride ("I drive a car but I don't wear a NASCAR jumpsuit every time I leave the house to go somewhere") to reality TV ("Pretty soon it's just going to be shows like 'Let's Watch The Smiths Eat Breakfast') hit the mark with audiences of every background.
A former STAR SEARCH GRAND CHAMPION ("I made $100,000… it's all gone, so don't even ask!"), Taylor Mason has played every possible venue there is, including Carnegie Hall in New York City and The Sydney Opera House in Australia. He's headlined the Improv, Funny Bone and Zanies Comedy Clubs . He's performed for companies like McDonald's, Walmart, Microsoft and Walt Disney and has sold more than 500,000 DVDs of his comedy performance.
The Grable Group is pleased to serve as the exclusive agent for comedian and entertainer Taylor Mason. With over two decades of experience in the comedy industry, Tim Grable has been privileged to work with companies like Chick-fil-A, McDonald's, Direct TV, General Mills, Eli Lilly, Pfizer, Toshiba, Deloitte, Time Warner, Alcatel-Lucent , Walt Disney, CBS, NBC and Mercedes Benz.
For more information on Taylor Mason call 1-615-283-0039
###