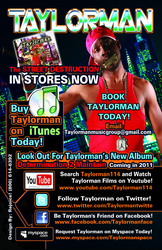 I've never learned how to quit what I love to do I always win no matter if I lose cause I learn from my losses cause it grows me 100x more stronger and smarter than before,Im havin a ball right now cause there is nowhere to go but up here in New York City
New York, NY (PRWEB) February 7, 2011
Look out, midwest is the region, O.H.I.O is the state, the Glasscity (Toledo, Ohio) is the city, and this historical talented recording artist has what it takes to give the music industry a bang for what it's worth after becoming Toledo's two time hip hop fox 36 Toledo Idol.
He carries the passion like Tupac Shakur, the business mind frame of Jay Z & 50 Cent, with a lyrical voice that would remind you of Ludacris so who ever ends up signing this recording artist has definitely hit the jackpot. The artist/ producer/ CEO is currently living in New York City and doing major things back in his hometown Toledo,OH, what they call the glasscity, where Taylorman is putting it down with his empire team of talented producers (Audamatik, DNickz, Mr Endz, Bit"A"Till) and recording artists such as Da General P.Capone, Ladyredd, Magestic, & Bobby Winston, who's currently signed to Taylor's independent label Taylorman Music Group LLC.
Since 2003 the talented songwriter/producer (Taylorman) has been attacking the business dropping mixtapes of major remixes and albums and performing continuously in New York City and all over Ohio nightclubs and even investing into his own events and concerts to get his shine on the way he wants it; plus opening up for mainstream artists like, Shawnna, Gucci Mane, Lil Scrappy, Rick Ross, T-Pain, Lil Wayne and others serving listeners the entertainment they want to hear as he remains in the spotlight on different FM radiostations interviews (107.3 The Juice, Hot 97.3 Urban Radio) and taking over his hometown just off of hot radio commercial ads in 60 sec. song formats. He is also the spotlight in newspapers and underground television shows and live stage performances.
The talented songwriter is very versatile with his lyrics, so in some cases you may hear him on R & B levels of music, Pop or Street music; either way this artist has no limits within music all together, even with producing music, his creations are very amazing.
Taylorman also directs and edits his own films which are currently broadcasted on his YouTube channel Taylorman114 where he created Taylorman T.V, which shows all of his live performances, interviews, video shoots and music videos, and his documentaries & movies, along with unseen footage, news off the streets of different states and cities and he even started his own film production called Taylorman Films LLC. So when he makes his big break with his music career he can also possibly land his major film deal to work with companies such as Tri Star, New Line Cinema, Paramount Pictures or Lions Gate Films.
In 2006 he filmed his first independent movie 2 Way Trouble (Action/Comedy) and thew his own historical world movie premiere of the film and showcased it on the big screen at the Ohio Theater in Toledo, Ohio on Lagrange St. and sold over half of the seats out of 1,000 on opening night. Taylorman also has a upcoming Sophomore Film (Backs Against Tha Wall)(Action/Suspense) he's ready to begin after the release of his new upcoming album Determination 2 Maintain, which has no release date set at this time due to Taylor being undecided of which mainstream record label he would like to join forces with for his projects. And Taylorman is also currently still promoting his late single "Applebottoms," "New York City," & "My One Love" from his debut album Tha Street Destruction that's currently still selling on iTunes today.
Taylorman has also leaked three new singles "Mailtime," "Storms on the way," and "Pants on the Ground Remix ft General Larry Platt" from his second new upcoming album Determination 2 Maintain that will possibly soon have a release date. Now that Taylorman is currently living in his second hometown New York City, he plans to become one of the newest upcoming major artist discoveries outta New York City. He is one of Ohio's most powerful standouts.
Everyone can visit Taylorman at the following links below:
http://www.reverbnation.com/taylormannation
http://www.youtube.com/taylorman114
http://www.twitter.com/taylormantwitte
http://www.facebook.com/taylormanface
http://www.myspace.com/taylormanspace
###