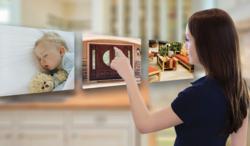 The Taylor Morrison Interactive Home will change the way people interact with their home and live every day.
Houston, Texas (PRWEB) February 17, 2012
Home buyers are seeing, hearing and playing with high-tech features showcased in Taylor Morrison Interactive Home™ models grand opening in rapid order this spring at communities in Houston, Texas. Taylor Morrison Interactive Homes utilize integrated, high-tech modules and systems that can be tailored to a family's lifestyle and budget. Taylor Morrison is the first production builder to offer integrated high-technology in every home as an included feature at no additional cost to the consumer.
Taylor Morrison has experienced the magic of interactive home automation through the Innoventions Dream Home exhibit located in Disneyland® Park. The exhibit was developed by the Disneyland® Resort in collaboration with Taylor Morrison, Microsoft and HP to create a "high-tech, high-touch" experience in an integrated environment.
"It's fascinating to see aspects of the The Innoventions Dream Home come to fruition in homes we build. From a sales perspective, high technology is exciting because it's not widely available in our price point and demand is growing," said Amy Haywood-Rino, Vice President of Sales & Marketing for Taylor Morrison's Houston division. "That's why we asked Michael Garfield, The High-Tech Texan®, to be the voice for our Interactive Home. Michael has a knack for making new technology both fun and accessible," said Haywood-Rino.
The High-Tech Texan®, aka Michael Garfield, is the go-to resource for easy-to-understand commentary, answers and recommendations for technology and consumer products. Based in Houston, Garfield began his career on NBC-TV and continues today with daily radio programs on KPRC Radio 9-5-0 and TV appearances. Garfield will do endorsements during his radio show, radio spots, and broadcast live from Taylor Morrison Interactive Home models.
Taylor Morrison has chosen Connect One as the premiere integrator of the Taylor Morrison Interactive Home in Houston. Interactive packages are designed for various product lines. Packages include an LCD command center display, security camera, intercom, home audio, and remote access via an I-phone, I-pad or tablet. According to Haywood-Rino, Taylor Morrison plans to include Interactive Home packages in all homes in Houston at no additional cost to the consumer. A technology specialist will work with buyers to customize their interactive packages during the Design Studio process.
Taylor Morrison Interactive Home models are open at five communities in the Houston area; the Positano model at Avalon at Cinco Ranch in Katy, the Florence and Meridian models at Mar Bella in League City, the Tuscany at Avalon at Telfair in Sugar Land , and the Carrington at Southern Trails in Pearland. Models will open by mid-year at Churchill Farms, Fall Creek and Avalon at Riverstone. Packages displayed in each model vary by community, floor plan design and price range.
The Positano is a new design from Taylor Morrison's Inspired Series; a collection designed specifically for multigenerational families. The Meridian, grand opening at Mar Bella, is a brand-new multigenerational design available at a lower price point. The home has multiple options including a second master suite on the second floor.
"The American Dream experience at Taylor Morrison is really about people and the bonding relationship they have with architectural elements, technological conveniences and personal experiences in their home. We believe every homeowner wants modern features that will make their life easier, safer and more energy efficient. The Taylor Morrison Interactive Home will change the way people interact with their home and live every day. It's just the beginning."
Taylor Morrison is currently building homes priced from the $100,000 to over $1 million in 21 locations in the Houston area. The Houston division is located at 5353 West Sam Houston Parkway North, Suite 190, Houston, TX 77041, 713-598-3000. Visit Taylor Morrison on the web at http://www.taylormorrison.com and Taylor Morrison Houston on Facebook. To learn more about the Interactive Home by Taylor Morrison, go to http://www.ourhightechhome.com.
About Taylor Morrison
Taylor Morrison was named the No. 1 private homebuilder in the United States in 2010 and 2011 by Builder magazine and builds a wide range of product for discerning home buyers across the country. With more than 130 communities in Arizona, California, Colorado, Florida and Texas, Taylor Morrison offers first-time, mid-market and mid-to-upscale housing in both master-planned communities and urban infill neighborhoods. The company also operates one of Canada's largest homebuilding companies, Monarch, in Ontario, Canada, where it builds single-family homes and high-rise condominiums in Toronto and Ottawa. For more information, visit http://www.taylormorrison.com.
About The High-Tech Texan® (Michael Garfield)
Michael is a graduate of the University of Texas at Austin and holds a bachelors degree in Communications, Radio-TV-Film. He began his broadcasting career in the late 1990's on the Houston NBC-TV affiliate and now hosts syndicated segments across a dozen U.S. markets. Michael provides industry news and insight to radio stations in Houston and other cities. He regularly appears at conferences to speak about the Internet, issues that affect cyberspace and the paradigm shift of using new technology and products to better peoples' lives. "The High-Tech Texan® Show with Michael Garfield", 9-5-0 KPRC-AM in Houston, features industry guests, listener call-ins, product reviews, tips and opinions.
About Connect One Security
ConnectOne Security provides professional sales, service, and installation on interactive security solutions as well as home entertainment and technology products. Connect One has served Houston's finest homebuilders and homeowners for over 20 years. The company is headquartered in Houston, Texas.
###