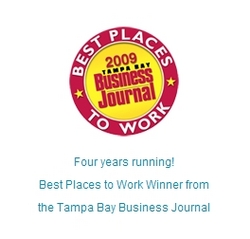 It's all about the team – we have strong players with a great work ethic, unique vision and dedication. They work hard, which allows us time to play and have fun
Tampa, Fla. AMPA, Fla. (Vocus) March 16, 2010
For the 5th year running, full-service Tampa web design and development firm Magnetic is a finalist in the Tampa Bay Business Journal's Best Places to Work.
The company keeps morale high, and employees happy and hardworking by making the work place exciting, fun and relaxed.
"It's all about the team – we have strong players with a great work ethic, unique vision and dedication. They work hard, which allows us time to play and have fun," said Jennifer Bakunas, Magnetic's President and CEO.
Along with holiday parties and company celebrations, Magnetic encourages and hosts other events for employees to do together, including happy hour, bowling and even X-Box nights. Company events outside the workplace foster a better understanding between employees.
One event Magnetic employees came together for last month was the Gasparilla Distance Classic. Employees, managers and owners formed three teams of five to compete in the 5k and 15k races. While the 15k team took first place, owners Jennifer and Ken Bakunas, who ran along-side their employees in the 15k, were truly happy to see such dedication to health and company spirit from employees.
Magnetic believes that "a healthy company is a happy company" and encourages a healthy lifestyle for its employees by providing eco-friendly water bottles, free healthy snacks and a company grill that employees can use to cook their own meals. The company also promotes physical activity by engaging in events like the Gasparilla Distance Classic and Richard's Run for Life in Ybor City.
Another aspect that makes Magnetic successful and its employees happy is flexibility. Since its employees are hardworking, independent and passionate, Magnetic offers each employee the choice to follow their own schedule – they are welcome to work when they focus the best, whether that means early mornings, late at night or even, at times, from home.
The Magnetic office is a hub for creativity and employee interaction that leads to inspiration and motivation. Employees' recognizing each other's hard work contributes to the overall team satisfaction. Employees can recognize each other's efforts through spot bonuses (on the spot rewards for excellent performance), as well as by voting for the "Matey of the Month" (a pirate-themed Employee of the Month program). The "Matey of the Month" receives prime parking, extra time off and a novelty prize.
About Magnetic
Based in Tampa, Fla. and founded in 1997, Magnetic is a full-service web design and development firm that helps businesses reach their full web potential through strategic consulting, custom web design and development, e-commerce solutions, database integration, content management, systems integration, internet marketing and hosting. Named the 2007 Small Business of the Year by the Greater Tampa Chamber of Commerce, Magnetic offers both business and technical expertise to help medium- and large-size businesses achieve greater profitability and sales through the Internet. For more information on Magnetic, please visit http://www.magnetic.com.
###