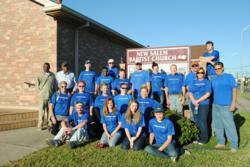 "Being a part of these rebuilding efforts has been a rewarding experience for all involved," said Tony Vannelli, of TDB Builders. "Partnering with the Headwaters Relief Organization allowed us to use our firm's resources and personnel to truly help people
White Bear Lake, MN (PRWEB) November 28, 2012
Throughout its history TDB Builders has used their industry expertise to give back to the community through various volunteer projects with Headwaters Disaster Relief Organization and River of Hope designed to strengthen communities in need. TBD Builders has been helping rebuild homes for the elderly and disadvantaged in the wake of the destructive 2008 flood in Southern Minnesota and in New Orleans, Louisiana to aid in the repair of the devastated Ninth Ward following Hurricane Katrina The TDB lead by Tony Vannelli and team returned in October 2012 from their fourth trip New Orleans.
"TDB Builders has always viewed service to our community as a critical part of creating the type of successful and responsible business that we strive to be," said Tony Vannelli, of TDB Builders. "Being a part of these rebuilding efforts has been a rewarding experience for all involved. Partnering with the Headwaters Relief Organization allowed us to use our firm's resources and personnel to truly help people in need."
Headwaters is a disaster relief collaboration of volunteers that support both the emotional and housing rehabilitation needs of families and communities ravaged by disaster. Their mission is to react with agility and compassion when disasters strike through practical aid, physical recovery assistance and mental health support to victims after the first responders have come and gone.
"TDB Builders willingness to serve the community with enthusiasm and competence is deeply appreciated," remarked Rebecca Thomley, CEO of Headwaters Relief Organization. "TDB is a conscientious builder of the highest quality, Headwaters Relief Organization looks forward to our continued partnership."
TDB Builders has spent nearly a decade managing construction and development projects throughout the Twin Cities Metro Area. Bill Jeans and Tony Vannelli formed TDB Builders in 2003. They combined several construction companies to form a company that expanded their services, broadened their scope of work and emphasized a strong commitment to community service. The TDB goal has always been to provide the best services for the best value.