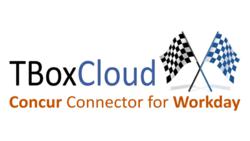 We are delighted and excited to partner with Concur" said Gerald Pili, CEO at TBoxCloud, Inc.
Los Angeles, CA (PRWEB) April 22, 2013
TBoxCloud, Inc., "Where Integration Meets The Cloud," today announced that its Concur Connector for Workday will be available in the new Concur® App Center from Concur (NASDAQ: CNQR), the leading provider of integrated travel and expense (T&E) management services. Unveiled today at Fusion, the new app center will help businesses and travelers discover applications that deliver significant value to the enterprise as well as to the business traveler.
TBoxCloud's Concur Connector for Workday automates the integration of HR, Finance, and Payroll process between Concur and Workday. It completely eliminates the manual update process to keep all the applications up-to-date, synchronized, and error-free, no matter where or when the data is updated.
Some of the Key features of the TBoxCloud's Concur Connector for Workday include:

Real-time and near real-time processing.
Employee profile synchronization: Update Concur and maintain consistency.
Expense reports synchronization: Update the Ledger and execute other financial operations.
Payroll synchronization: Track and accelerate the expense reimbursements.
TBoxCloud's Connectors provide bi-directional connectivity within point-to-point and multi-point environments, a Smart Rules Engine for automated triggers, full customization, and scalability.
"We are delighted and excited to partner with Concur" said Gerald Pili, CEO at TBoxCloud, Inc. "Our new Concur to Workday Connector provides state-of-the-art integration technology as an off-the-shelf solution for straight forward implementations. Its unique agility to scale and integrate multiple systems in Cloud or Hybrid environments brings new opportunities for our customers to get more value out of their existing technology and information…that's where rubber meets the road."
"We are focused on creating an ecosystem of partners with innovative new products and services for our customers and their employees," said Tim MacDonald, EVP of Platform and Data Services at Concur. "The new Concur App Center will deliver seamless integration via Concur's open platform and we are thrilled that TBoxCloud will be among the esteemed apps in the Concur T&E Cloud ecosystem."
About Concur
Concur is a leading provider of integrated travel and expense management solutions. Concur's easy-to-use Web-based and mobile solutions help companies, federal agencies and their employees control costs and save time. Concur's open platform enables the entire travel and expense ecosystem of customers, suppliers, and developers to access and extend Concur's T&E cloud. Concur's systems adapt to individual employee preferences and scale to meet the needs of companies from small to large. Learn more at http://www.concur.com or the Concur blog.
About TBoxCloud
TBoxCloud "Where Integration Meets The Cloud" is a leader in Cloud integration solutions. TBoxCloud provides pre-built connectors with full-customization capability for ERP, CRM, and various other systems, a Cloud infrastructure to host its connectors, and Professional Services to assist its customers with their systems integration and process realignment needs.
http://www.tboxcloud.com