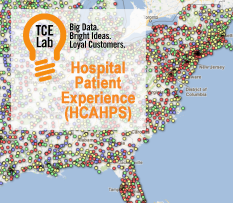 Hospital improvement priorities do not seem to match up with what hospitals need to improve.
Boston, MA (PRWEB) October 02, 2012
TCELab, a thought leader in Big Data and Customer Experience Management (CEM), announced its research paper "Improving the Patience Experience" today based on HCAHPS data aggregated from over 2.8 million patient surveys in 4,610 health care facilities across the U.S.
Patience Experience (PX) has become a priority for U.S. Hospitals because the Centers for Medicare and Medicaid Services (CMS) will be using patient feedback about their care as part of their reimbursement plan for acute hospitals (Hospital Value-Based Purchasing VBP). Hospitals are focusing on improving the patient experience to ensure they receive the maximum of their incentive payments.
The U.S. government releases data regarding the performance of different industries, including healthcare. Inspired by the Obama administration's "Big Data Research and Development Initiative," TCELab integrated six different big data sets on US hospitals, built predictive models of patient satisfaction ratings and documented the results into a free research paper. Dr. Bob Hayes, Ph.D., TCELab Chief Customer Officer, was the primary analyst on the research.
The free research paper is available here: http://www.tcelab.com/hcahps.
Included in the research findings:
1) A good patient experience does not start with medicare spending. The "Medicare Spending Beneficiary (MPSB)" assesses the cost of care by each hospital by the CMS. Dr. Hayes correlated MPSB with the patience experience survey data and found that hospitals with lower medical spend per patient are able to deliver a comparable patient experience to hospitals with greater medical spend per patient.
2) Hospitals might be focusing on the wrong areas to improve patient experience. Hospital improvement priorites do not seem to match up with what hospitals need to improve. Hospitals current top 3 priorities to improve the patient experience are focused on:

reducing noise
improving patience rounding
improving the discharge process
This is in stark contrast to what the HCAHPS survey data suggests -- Hospitals will likely get a greater ROI for improving patient experience focusing on:

Staff explains medicines before dispensing
Staff responsiveness
Pain management
3) The biggest driver of patient advocacy is the patients' perception of the quality of nurses' communicaton effectiveness.
4) The quality of doctor communication is the second lowest driver of patient advocacy.
"As far as I am aware, these series of analyses are the first to integrate these disparate US hospital data sources to apply predictive analytics for the purpose of identifying the reasons behind a loyal patient base," states Dr. Hayes. "While this research is really about the entirety of US hospitals, hospitals still need to dig deeper into their own specific patient experience data to understand what they need to do to improve the patient experience."
"TCELab's PXM Audit solution helps hospitals understand their unique positioning by reviewing their raw data produced from HCAHPS, and evaluates the current Voice of Patient program at the hospital from both a Big Data perspective as well as Patient Experience." says Stephen King, CEO of TCELab. "This is a great example of how the use of big data can make a positive difference in the world, in addition to delivering a positive ROI."
About TCELab
Founded in early 2011, TCELab merges Big Data and Voice of Customer "VOC" metrics and applies predictive analytics to identify correlates of customer loyalty and sustained revenue growth; in other words "Create Brand Fans" and "Optimize ROI." Based in Boston with offices in Seattle and Calgary, TCELab has 9 Business Intelligence solutions that include Research & Audit, Surveys & Driver Analysis for all business constiuencies (customer, employee, partner, end user, patient), as well as Linkage analysis & Predictive Analytics. Specifcally, PXM Audit and PXD target health care facilities. Founders Vishal Kumar, Stephen King, and Dr. Bob Hayes have a combined experience of more than 60 years of Customer Experience Management research, business strategy, and technical leadership.
Website: http://www.tcelab.com
For more information, contact:
Stephen King, CEO
stephen(at)tcelab.com
1-403-604-5678
@stephdokin
Dr. Bob Hayes, CCO
bob(at)tcelab.com
1-206-372-5990
@bobehayes
Website: http://www.tcelab.com
@TCELab
info(at)tcelab.com