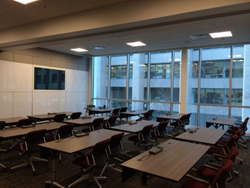 Calgary, Alberta (PRWEB) July 23, 2014
Total Coordination Professionals (TCP, Inc.), a leader in training delivery solutions, created a new Canadian company called TCP Training Centers, Inc., which has announced the exciting grand opening of its new 6,000 square foot, state-of-the-art Training Center in downtown Calgary.
"We are very excited to introduce our new training center to the Calgary business community," said Lisa Brazelton, TCP Training Centers Founder and CEO. "This allows Calgary's businesses to have a highly professional, off-site training center at their fingertips."
The new facility features five incredibly efficient rooms that can accommodate various configurations. Each room is equipped with LED TV 80" display screens, DIRTT media wall systems, as well as Lenovo M93P desktop computers, and 20" LED dual monitor set-up, and can be configured for PC or non-PC classes. Every detail of the environment at TCP Training Centers in Calgary has been designed and engineered to deliver an exceptional training experience.
The Training Center offers full time on-site support as well as a full range of guest amenities. The new facility is designed to host classes ranging from one day to several weeks, addressing the corporate needs of Calgary's business community.
"We already have long-term agreements with clients in the Petroleum and Gas industry, as well as the technology industry. Our exquisite flagship center speaks for itself," said Brazelton.
The new TCP Training Center is located in the heart of Downtown Calgary's business district, offering convenient easy access to public transportation.
In late 2014, TCP will be pleased to announce the grand opening of two additional Training Center locations in, Vancouver and Mississauga.
ABOUT TCP TRAINING CENTERS INC.
TCP Training Centers is a sister company to Total Coordination Professionals (TCP, Inc.), a "Single Source" training coordination and business logistic company focused on handling every aspect of a company's technical and classroom training. It offers facility selection, scheduling, administrative and technical support, as well as technical configuration, set-up and testing, training materials management, catering coordination and centralized billing.
With more than 16 years of experience in the industry and more than 27 years in coordination planning and leadership training, TCP maintains its outstanding reputation by building relationships that work.
TCP Calgary
718 8th Avenue SW
Suite 300
Calgary, AB T2P 1H2
Please contact us at sales(at)totalcoordination(dot)com or 403-475-0506.