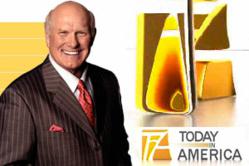 Always driven to bringing the most relevant programing to its audience.
Coral Springs, FL (PRWEB) March 16, 2012
Business executives often rise earlier in the morning and stay up later at night. That can be attributed to the amount of stress carried. While television news organizations are repeating yesterday's headlines at odd hours, why not watch something original that will inform and entertain? Today in America TV is pleased to announce that the New York, New Jersey and Westchester areas can catch the award winning program in easy to watch, streaming segments on WVVH.com.
Show host Terry Bradshaw is one of the most respected sports celebrities in the nation. His warm personality and down to earth friendliness are two of the main reasons he was chosen to host Today in America with Terry Bradshaw. A professional football player for fourteen years, Bradshaw earned the many honors and awards that were bestowed to him. He is a four time Super Bowl winner and Hall of Fame inductee. His sparkling reputation and natural energy have always kept him busy on the motivational speaking world. It is also why he was recently selected to be a spokesperson for Nutrisystem, the weight loss program.
The Today in America TV show is a unique television show that can also be seen on the web via your local cable company. Program content is exclusively chosen for today's indefatigable business people. A few samples of the topics highlighted are smart investing, the future of energy and eco friendly solutions. In 2010, it won ten Telly awards for technical and creative excellence. Television distribution is carried by ESPN 2, Fox Business Network and well known CNN Headline News, as well as local and regional cable TV stations. Producers and staff for the show encourage viewers to engage the program on social media platforms Facebook, Twitter and YouTube. For more information and to find air dates, please visit networthtelevision.com.