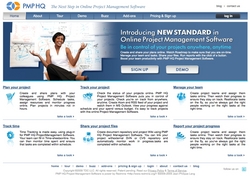 PMP HQ will improve and simplify the way in which people work together
Boston, MA (PRWEB) October 8, 2009
TDC LLC has announced the public availability of its revolutionary Online Project Management and Collaboration suite PMP HQ.
PMP HQ provides small and medium size businesses with an innovative new way for online project management and collaboration by combining a comprehensive project management suite with an arsenal of collaboration tools including wiki, file sharing, version control integration and much more.
"PMP HQ will improve and simplify the way in which people work together," said Marina Brounova, Chief Marketing Officer of TDC LLC, the creator of PMP HQ. "Bringing together several project management and collaboration tools PMP HQ provides company executives, project managers and team members with a new visibility to the project. We expect PMP HQ to make its contribution to global productivity growth as it will be adopted by millions of users over the years to come."
Using PMP HQ Web 2.0 online service companies will no longer need to make complex in-house deployments and investments in IT infrastructure and staff. By moving project management and collaboration tools to the online cloud enterprises would be able to focus more on their core business making it more robust and efficient.
PMP HQ , the Next Step in Online Project Management Software, has introduced new standard to the online collaboration and project management software and will change the way people collaborate.
About PMP HQ and TDC LLC
TDC LLC, the creator of PMP HQ, was founded in 2002 to provide information and professional services to people in various industries. In 2009 we decided to offer the set of tools we use ourselves to the general public in our first Software As A Service offering. PMP HQ Online Project Management Software was created with the goal of making project management simple enough that anyone can do it.
For more information about PMP HQ please visit http://www.pmphq.com.
For online demo please visit: http://www.pmphq.com/demo/
# # #