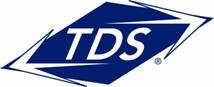 We are prepared. Our teams have topped off gas tanks, readied generators, finalized our response plans, and will continue to monitor the storm and our networks from our Network Operations Center in Madison, Wisconsin
Madison, Wis. (Vocus/PRWEB) February 01, 2011
TDS Telecommunications Corp. (TDS®) Technical Response Teams are preparing for yet another round of major winter storms. This one could be the biggest of the season according to Federal Emergency Management officials.
Ice storms and massive snow falls can cause power outages and damage to phone lines or equipment resulting in localized phone, cellular, and Internet service outages.
"We are prepared. Our teams have topped off gas tanks, readied generators, finalized our response plans, and will continue to monitor the storm and our networks from our Network Operations Center in Madison, Wisconsin," says Cliff Lawson, vice president of Field Services and Network Operations at TDS. "We are ready to respond, but the safety of our workers is a top priority, especially at times like this."
When commercial power is out, TDS supplies power to its landline network via alternative energy sources. Until power is restored by the power company, TDS feeds its landline phone network remotely with large batteries at their central offices and remote gas powered generators in rural areas.
If phone lines have not been damaged, landlines will work when the power is out due to TDS power back up systems. Many, but not all phone lines are buried underground and avoid damage from ice and snow.
TDS reminds customers to check for phone service using a corded traditional landline phone. (The one that plugs directly into the wall jack, cordless phones will not work.)
A few more safety reminders from TDS:

Do not touch, move, or try to hook up any phone or power lines that have fallen on the ground or stretched from the weight of the snow or ice.
Do not steal (or borrow) generators or gasoline from generators supplying emergency services. These facilities are under surveillance 24/7 by local authorities, neighborhood watch groups, and TDS personnel.
If you need emergency medical assistance and you do not have phone service, please get to the nearest police/fire station for assistance.
Check on your neighbors, especially if they are elderly or disabled.
Unplug power and phone lines from computer equipment and modems to prevent power surges during restorations. These could harm your computer, even if you have a surge protector.
TDS Telecommunications Corp. markets communication services to business and residential customers in 30 states through its brands TDS Telecom® and TDS Metrocom®. With 1.1 million access line equivalents in service, TDS Telecommunications Corp. connects customers to phone, broadband, and digital television service in hundreds of rural, suburban, and metropolitan communities. TDS Telecommunications Corp. is the eighth-largest wire line company in the nation; employing approximately 2,500 people. The company is headquartered in Madison, Wis. Visit http://www.tdstelecom.com and http://www.tdsbusiness.com for more information.
TDS Telecommunications Corp. is a wholly owned subsidiary of Telephone and Data Systems, Inc. [NYSE: TDS, TDS.S] Telephone and Data Systems, Inc., a Fortune 500® company, provides wireless, local and long-distance telephone and broadband services to nearly 7.2million customers in 36 states through TDS Telecommunications Corp. and U.S. Cellular [NYSE: USM], its 83-percent owned wireless subsidiary. Founded in 1969 and headquartered in Chicago, Telephone and Data Systems employed 12,300 employees as of Sept. 30, 2010. Visit http://www.teldta.com for more information.
For more information contact:
Contact: DeAnne Boegli
National Public Relations Manager
608-664-4428 / deanne(dot)boegli(at)tdstelecom(dot)com
###