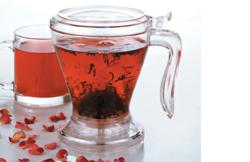 So far, it's the easiest steeper, ever."
Los Angeles, CA (PRWEB) November 09, 2011
What is it? The Sleek Steep is a modern teapot, tea brewing system with a blend of old-age wisdom and a touch of modern elegance and convenience. It is an unbreakable, BPA-free, dishwasher safe teapot with an innovative filter that doesn't clog with tea leaves. How? The leaves stay intact thus making it easy to wipe the vessel clean for its next use.
As founder of California Tea House, Will Bailey said, "After a full year of experimenting with various tea steeping solutions we finally found a teapot that makes tea brewing easy and clean."
Priced at $18.00, the Sleek Steep is an affordable and mess-free way to savor the gourmet experience of loose-leaf tea at home. The clear exterior provides an ideal vessel for viewing the splendid unfurling of loose-leaf teas as well as the beauty of blooming tea. What's more, the 18 oz. Sleek Steep tea brewing system yields two cups of flavorful tea.
What you need to know: fill the Sleek Steep with loose leaf tea, add water heated to desired temperature, wait the recommended steep time, place the Sleek Steep over your cup and the strained tea flows effortlessly into your cup. To stop the tea flow, simply lift the teapot. The automatic shut-off valve allows you to avoid hot drips. Novices and tea connoisseurs alike can revel in the Sleek Steep's no-fuss simplicity.
"This is our first signature teaware that we are offering. Before we put our name on any one product we wanted to take our time finding the right fit, and make sure we only carry the best. So far, it's the easiest steeper, ever." said Mr. Bailey.
###