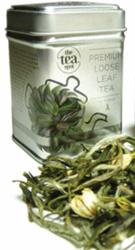 I couldn't be happier with how this tea turned out for our wedding. It reminds me of that sweet summer night. Our guests were ecstatic about the mini tea tins!
Boulder, CO (PRWEB) July 03, 2012
White Wedding Tea is a delicate custom blend of full leaf white tea, white flower buds, and roasted chestnut flavor. The prized white Bai Yun tea leaves come from Drum Mountain of northern Fujian province in China, known for its Buddhist temple and monks. The tea leaves are light green in color with many downy tips indicative of young tea buds, and have a naturally fragrant honey-like flavor. The white tea base is refreshing, and has reputed benefits – alertness and meditative stimulation – that are ideal for brides on their wedding day. The sweet roasted chestnut flavor of white wedding tea makes it pair beautifully with wedding cake or pastries. White Wedding Tea has no calories and is sugar-free.
The addition of custom wedding tea in individual mini tins to The Tea Spot's current collection of loose leaf teas opens up a great opportunity for couples to offer premium tea favors, including bridal tea favors & bridal party favors. Custom labels are available for minimum orders of 60 tins, to include the wedding couple's names & wedding date above the tea steeping instructions on the bottom of each tin. Personalized wedding favors are becoming the trend for modern weddings, allowing couples to express their unique personalities through each detail of their wedding. In doing this couples can support quality vendors like The Tea Spot, who donates 10% of all profits to cancer wellness programs. Tea favor recipients will be reminded of this commitment with the 10% Pledge logo located on each tea tin.
Wedding tea favors are becoming more prevalent and timely in modern American culture, as more people become tea savvy and more aesthetically beautiful and aromatic teas become available. White Wedding Tea favors are an elegant and healthy gift for bridal shower guests or wedding guests. This particular tea was originally developed this June for the wedding favor gifts at the wedding of The Tea Spot's own CEO, Maria Uspenski, who stated "I couldn't be happier with how this tea turned out for our wedding. It reminds me of that sweet summer night. Our guests were ecstatic about the mini tea tins!"
Gifting guests with party favors is a custom that originated amongst European aristocrats, as a gesture of appreciation and gratitude from the bride and groom. Traditionally, crystal candy dishes with sugar cubes or confections, which symbolized wealth and royalty, were offered as party or bridal favors. Tea has historically played an important role in weddings in many cultures. British Royal weddings have inspired custom tea blends since the 17th century. Tea ceremony has long played an important role in Chinese wedding tradition, where the bride serves tea to her mother and father, as a gesture of gratitude, before her wedding ceremony.
###
The Tea Spot is a for-profit philanthropic business producing handcrafted loose leaf teas and Steepware® – the tools that make loose tea easy. The Boulder, Colorado-based woman owned and operated company was founded by Maria Uspenski in 2004. A cancer survivor drawn to the health benefits of leaf tea during her recovery, she set forth to modernize the loose-leaf tea experience. Her message is simple and powerful: tea in its freshest form renders incredible flavor, unmatched health benefits, and is eco-friendly. The Tea Spot is a Certified B Corporation and ensures that its products uphold clean, sustainable and fair manufacturing standards. The company's model of social entrepreneurship incorporates a culture of giving as it grows: ten percent of every sale made is donated in-kind to cancer and community wellness programs.