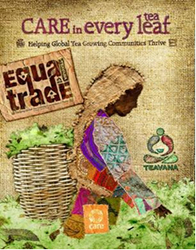 Atlanta, GA (Vocus) July 29, 2010
Teavana, in partnership with CARE, announces the expansion of the EquaTrade initiative with the launch of the CARE in Every Tea Leaf' effort. The new program delivers customized items designed to raise awareness for CARE and promote additional sales that contribute funds for CARE's work to empower women and girls in the fight against global poverty.
Teavana originally launched the EquaTrade initiative in 2005 to facilitate donations to CARE which contribute to the funding of education programs, increase access to safe drinking water, and create economic development opportunities in the world's tea growing communities. Through the EquaTrade initiative, Teavana donates 1% of annual profits from the sale of its tea to CARE
In 2009, Teavana's EquaTrade program made donations to CARE funded tea-related projects in South Africa and Sri Lanka, as well as a large separate donation to CARE's Haiti Earthquake Relief efforts. In 2010, India is being added to the list of areas supported by EquaTrade. Impact through Teavana's support includes: training of nearly 4,000 tea workers (92% women) to improve product quality and help increase personal incomes; tea estate infrastructure improvements; and numerous new business-generating activities within the tea-growing communities were supported to help diversify family incomes.
The CARE in Every Tea Leaf initiative, represents an expansion of the EquaTrade program to include specialized merchandise such as re-usable shopping bags and custom-packaged tea collections. Sales of these items will contribute additional funding to the EquaTrade program.
Sales from all Teavana teas contribute to the EquaTrade program, making every tea purchase a donation to CARE. In addition, sales from all gift collections which include tea are also part of the EquaTrade program, and these popular sets include the Teavana Classic Tea Collection, Imperial Blooming Collection, Emperor's Collection, Belle Luna Collection, World Tea Collection, Tea Lover's Collection and Shizuoka Collection.
Beautifully detailed, 100% cotton, EquaTrade-branded reusable shopping bags, carry CARE's I am Powerful message, which calls for women to stand in solidarity against global poverty. Upon purchase of Teavana's reusable shopping bag, $1.00 will be donated to EquaTrade. In addition, every time the bag is brought in to a Teavana retail location and used for a tea purchase, 25¢ will be taken off the total sales ticket. Each 25¢ is donated by Teavana's EquaTrade initiative to CARE. The bags are hand-made in India and retail for $7.95 each.
The special CARE in Every Tea Leaf Collection contains four premium teas from the growing area where EquaTrade works and tools for making the perfect cup of tea. The four teas include Kenya Tinderet Black Tea, South African Roiboos Tea, Darjeeling Vidyaranya Black Tea and Ceylon Kenilworth Black Tea. Also included are 12oz of German rock sugar, a Yves glass infuser mug, a Teavana pre-set tea timer, a Teavana PerfecTea spoon, and four airtight Teavana copper Tea Tins. With each purchase, an addition five dollars is donated to EquaTrade. The collection retails for $79.95 each.
About Teavana
Atlanta-based Teavana first opened in 1997 with the name meaning 'Heaven of Tea'. The specialty stores are part retail shop and part tea emporium with over 100 different selections of loose-leaf tea from all over the world. The company donates 1 percent of profits from tea to CARE (http://www.care.org), which goes to improve the lives of those who live in tea-producing areas of the world through education, access to safe water and greater economic opportunities. Teavana currently has over 125 store locations in North America.
About CARE
CARE fights root causes of poverty in the world's poorest communities. CARE places special focus on working alongside poor women because, equipped with the proper resources, women have the power to help whole families and entire communities escape poverty. In over 70 countries, women are at the heart of CARE's community-based efforts to improve education, prevent the spread of HIV, increase access to water and sanitation, expand economic opportunity and protect natural resources. Each year, CARE helps tens of millions of people around the world effect real, positive changes in their lives.
Working together, we seek to overcome poverty by funding programs supporting dignity, tolerance and social justice.
Join Teavana's 'Circle of Empowerment' at TeavanaCAREs.com
More than 70 percent of the poorest people on the planet are women and children. We have the power to help change their world. Submit a statement of women's empowerment to TeavanaCAREs.com, and you could win a $500 care package filled with Teavana teas and CARE merchandise. By lending your voice, you will join thousands of others who are speaking out for policies that help break the cycle of poverty. You Are Powerful. Tell Us How.
Teavana and EquaTrade are registered trademarks of Teavana Corporation. CARE is a registered trademark of CARE International.
###