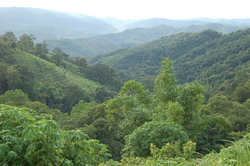 Kim & I got back from China this morning from what can only be described as the most memorable experience ever.
Tucson, AZ (PRWEB) April 14, 2009
Chinese tea expert Austin Hodge, founder of the Seven Cups tea company of Tucson, Arizona, will lead a physically demanding Master Class Tour of Puer Tea through Yunnan's back-country tea gardens in south west China in July 2009.
Designed for tea connoisseurs and limited to 10 participants, this personally guided tour is scheduled during the harvest and production of the exotic Puer teas. The strenuous 15-day tour is designed to give participants the opportunity to study harvesting and production processes in remote areas seldom visited by foreign travelers, visiting tea at its source. The group will spend the majority of its time engaged in intimate meetings with Puer tea masters in their own gardens and workshops in the Yunnan province. These traditional Chinese masters are known for their rare hand-picked organic teas, now available through Seven Cups.
Breathtaking scenery, tantalizing local cuisine and ancient cultural traditions provide a backdrop for the tour, as participants wind through areas inhabited by Wa, Bai, Dai and other ethnic minority groups. The Puer tour will take participants to remote areas, traveling through places like Xishuangbanna, Kunming, Yi Wu and You Le Mountains, Puer City, Jinggu, Yongping, Lincang, Fengqing and Dali.
Over the past decade, Hodge has cultivated relationships with tea masters throughout China, personally sourcing an award-winning catalogue of more than 100 rare Chinese teas. He is the first American to be become an Honorary Director of the Chinese International Tea Culture Institute and to be published in its journal. In 2008 Seven Cups was granted an exclusive contract to supply tribute-grade teas to the new Lu Yu Tea Museum in Changxing, Eastern China. Seven Cups was featured in Fresh Cup Magazine's 2009 Tea Almanac for its efforts to source and promote authentic Chinese tea.
The tour will also be led by Hu Hao Ming of Cha Ma Shi, one of the most successful producers of quality Puer in China. The company is one of the most progressive in its social practices in the Yunnan countryside and has a reputation for its scholarship in Yunnan tea history. Hu Hao Ming helped to write the provincial government's Puer standards and is deeply involved with research being done at Kunming University about local tea culture.
Puer tea is named for the city of Puer, the base of the Yunnan province's ancient tea market. This tea grows in high mountain areas and is brought down to the villages in the valley once a week to be sold. The process hasn't changed for centuries.
The Seven Cups Master-Class Tour of Puer Tea is scheduled from July 6 to 20 and costs $3,500, which includes all travel in China, hotels, and meals. Travel to China is not included. For more information, call 520-628-2952 or visit Seven Cups Tea Tours.
Seven Cups founders - Hodge and his wife Zhuping - believe the understanding of tea begins at the source. Seven Cups is dedicated to research and education regarding Chinese tea and tea culture, and has been publishing information about tea for six years on its website, sevencups.com, and teaching in its teahouses in Tucson and Denver. This year Seven Cups extended its educational program to include a series of dedicated tea master-class tours to green and yellow tea provinces in the spring and to the Puer region in the summer. Tea connoisseurs who participated in the Spring 2009 Tour said:
"Kim & I got back from China this morning from what can only be described as the most memorable experience ever." -- Alexis and Kim Kaae, Simply Tea
"The Spring Tea Tour was one of the most significant events of my life. The second day, after visiting the mother bush for Anji Bai Cha, I exclaimed we could stop right there and feel our expectations were far exceeded. We would have short-changed ourselves. Every day exceeded the marvels, mystery and magic of the previous day!"-- Andy Laub, Farmers Market Tea Company
Seven Cups Chinese teas are sold online and at the teahouses to customers in 35 countries.
###