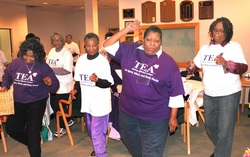 To hear an excerpt of Dr. Patricia Davidson's presentation,
Bowie, Md. (PRWEB) October 13, 2009
TEA (Taking Effective Action)® for Spirit, Mind, and Body Health, a spiritually and medically based health awareness program created by Rev. Dr. Gertie Loretta Hurley, will host its third Annual Women's TEA Conference on Spirit, Mind, and Body Health on Saturday, October 24. The conference's theme is Health: The Family Connection. This event will take place at the Prince George's Community College in Largo, Maryland, from 8:00 a.m. to 4:00 p.m.
Many people envision what they would do to help others if they had a lot of money. But, how many will take what little they have and start helping others, without the trappings of large sums of money? That's exactly what Hurley did to create TEA. Using money from a fixed income and a small inheritance, Hurley established TEA, a program committed to advancing, supporting, and promoting the health of women and girls in the greater Washington, D.C. and Maryland area. The goal of TEA is to focus on the often unrecognized obstacles that hinder women from enjoying optimal spiritual, mental, and physical health. Through its outreach programs, conferences and publications, TEA has made significant strides in motivating and empowering women to "Take Effective Action" for their health and to encourage others to do the same.
Hurley conceived the TEA conference as a way to enhance the lives of women through education and outreach programs designed to develop and minister to the spirit, mind, and body. The TEA Health Initiative program is uniquely designed to motivate women to implement behavior changes that concurrently improve their health and wealth. "We want to equip women with new tools and insight to navigate their path to healthier and wealthier lifestyles," says Hurley. The TEA program accomplishes this goal primarily through action-oriented, skill-building discussions, where participants are given the knowledge and resources to live healthier, wealthier lives.
The third Annual Women's TEA Conference features seminars, taught by medical and spiritual professionals. This year's conference includes: "Greetings and Welcome" by Frances E. Ashe-Goins RN, MPH Deputy Director, USDHHS Office on Women's Health; "Tracing Your Family Health Tree," by Finie Richardson, MPH, Project Coordinator for the Howard University-CGEN Project and D.C. PrimCaRe, and Instructor in the Howard University College of Medicine Department of Community and Family Medicine; and Dr. Patricia Davidson, M.D, Medical Internist and Cardiologist and one of less than 50 African American women cardiologists in the United States. Dr. Patricia Davidson will speak on Health the Family Connection." To hear an excerpt of Dr. Patricia Davidson's presentation, "You Are What You Eat" from the 2008 conference, see http://www.youtube.com/watch?v=j7T-vXdvW-8.
Hurley takes a no-nonsense approach to health prevention and challenges women to change their behavior. Although the conference is for women, Hurley extends an invitation to men because the information is so vital and is applicable to people of both genders. Registration includes continental breakfast, luncheon, snacks, conference materials, a themed T-shirt, gifts, and a luxury bag.
Attendees are encouraged to wear "workout clothes" to be in a relaxed, receptive mode. Event sponsors include Prince George's Community College Health Center; The NIH Heart Center at Suburban Hospital; John 3:16 Christian Bookstore of Lanham, Maryland; Tetley Tea Corporation; Carolina Pad Corporation; Omni World Corporation; and The Washington Informer Newspaper.
For more information about the third Annual Women's TEA Conference on Spirit, Mind, and Body Health taking place in Largo, Maryland, on October 24, visit http://www.teasmbh.org.
Media contact:
Gertie Loretta Hurley
Taking Effective Action
Phone: 301-249-3717, Cell 240-393-8198
# # #