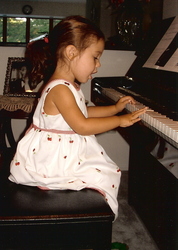 Trebellina's patented method of teaching is highly effective and utterly entertaining. There is nothing else like it.
Old Bethpage, New York (PRWEB) December 31, 2008
Babies need wait no longer to learn to read music. Award-winning DVD, "Introducing Trebellina," takes on the task in lessons created just for the under four set. The unique teaching method on the DVD was recently granted patent protection by the U.S Patent and Trademark Office.
Trebellina is the first educational DVD for young children to utilize a patented teaching method. The method integrates different senses in the learning process and reaches all types of learners.
On the DVD, animated characters Trebellina and Rock Bassey (styled after the treble and bass clefs) teach music so that little ones see and hear the notes, note names, and corresponding piano keys on the piano. The DVD also contains live action segments that challenge children to practice their rhythm and identify the names and sounds of various instruments. The Trebellina DVD is designed for children aged 1-4.
The Cristofori Baby Company LLC, creator of Trebellina, recognized that countless parents want to afford their children the opportunities associated with a better education and are aware that teaching music to young children is a great way to start. The Trebellina DVD fills the gap between the mommy-and-me music classes currently offered and the formal music lessons that young children typically wait years before starting.
To parents interested in facilitating early learning and teaching their children music, Joseph Scarpa, President and Grand Maestro of Cristofori explains, "Music is a language and, like all language, the earlier it is introduced the better." Says Scarpa, "Trebellina's patented method of teaching is highly effective and utterly entertaining. There is nothing else like it." He adds, "with Trebellina, parents can jumpstart their children's music education at a fraction of the cost of just one typical music lesson."
"Trebellina really gets across the point of what a note is and does this in a fun engaging manner," says Susan Ciancia, veteran piano and voice instructor from Huntington, N.Y.
A Rock Bassey DVD, the sequel to Trebellina, is slated for release in 2009.
Trebellina has received rave reviews from musicians and music educators, as well as from parents and kids all over the world. The DVD has also garnered awards from such prestigious organizations as Dr. Toy, the National Parenting Center, iParenting Media, the Dove Foundation, and Aegis Video Film Production Awards.
For a video preview of the Trebellina DVD or for additional information about the DVD or other products in the Cristofori line, contact Joseph Scarpa or visit http://www.Trebellina.com. Trebellina is available for sale on the company's website and in fine stores.
Contact:
Joseph Scarpa, President and Grand Maestro
The Cristofori Baby Company LLC
516-847-3714
http://www.Trebellina.com
###