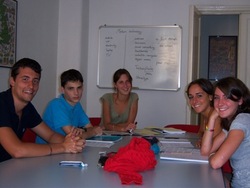 Our new English Language Assistant program is an excellent way to experience a new culture, while helping to improve the education and futures of others.
Owings Mills, MD (PRWEB) February 27, 2010
New English teachers who wish to teach English abroad in France or Morocco now have the opportunity to work as a English language assistant upon finishing the TEFL Certificate program. To participate in this program, all that is required is to successfully complete The Language House's TESOL/TEFL Certificate Course. The following month, graduates can choose between Montpellier, France or Marrakesh, Morocco to teach as an English language assistant for one to three months. There is also the option to combine teaching with French or Arabic lessons.
The Language House is a teacher training center that provides a TESOL / TEFL program (Teachers of English to Students of Other Languages) which is a one month program that allows its graduates to teach English and travel abroad. Upon completion of the course, successful candidates receive a TESOL Certificate and teach English abroad
The TEFL certificate course is designed to teach native or near native English speakers how to teach English to students of other languages. Along with the certificate, The Language House provides signature job coaching services with special emphasis on finding teaching jobs in France, Morocco, Italy, Turkey and their neighboring Mediterranean countries. With this TEFL certificate, course participants can travel anywhere in the world by teaching English. As a trusted source in the TEFL field, consultation and advice for teaching English abroad is available for those who need further guidance before registering.
Along with the TESOL Course and job coaching packages, The Language House aims to be a full service provider for hopeful expatriates by providing language lessons in the country where they wish to live and work. In focusing uniquely in Mediterranean countries and partnering with the best schools available, The Language House is able to offer a wide variety of language immersion options. This intense language study program complements the plan of long-term world travel.
According to Gyl Golden, Regional Director, "Our new English Language Assistant program is an excellent way to experience a new culture, while helping to improve the education and futures of others." The one to three month time period allows those with little teaching experience to add a solid teaching English background to their CV or resume. Tefl teachers can also combine "Teaching English with French Study" or Teaching English with Arabic Study." All you need to participate is fluency in the English language and The Language House TESOL (or TEFL) certificate.
Contact us for more information, how to apply and our latest special deals. If you want to get started on your new life abroad, join us at http://www.teflanguagehouse.com.
About The Language House:
The Language House, an American corporation, operates by creating a network of alliances with existing language schools, businesses and organizations in the Mediterranean. By using only existing businesses and resources, The Language House is not only a full service gateway to Mediterranean countries for its clients but also contributes to the local communities where their sites are located.
Interview Contact: Gyl Golden
+33 (0)6 84 83 85 59 or
+33 (0)4 67 92 44 78
gb(at)tesolhouse(dot)com
###