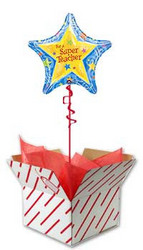 Halifax, West Yorkshire (PRWeb UK) July 13, 2009
Big Fat Balloons, the online balloon and teddy bear delivery site, has come up with a range of solutions for that age old dilemma that faces parents at this time of year.
What do you buy the teacher as an end of year gift!
Certainly at infant and junior school level, every child seems to turn up at school on the final day of the summer term, clutching a beautifully wrapped gift. It usually means that every staff room in the country resembles a strange cross between Interflora, Boots and Thorntons.
"At the end of the final term, it's a lovely gesture to send a thank you gift, as the teacher has been taking such good care of our children's education over the year. While I'm sure that teachers appreciate any gift, a change from the usual coffee creams or tropical bath foam would be more than welcome," said Sophie Baxter, managing director, Big Fat Balloons.
1- Something that little bit different
If you're friendly with other mums in your child's class, why not suggest clubbing together to buy the teacher a gift voucher for a department store. That way they can buy something a little bit bigger that they really want.
An alternative idea, which works especially well for female teachers, is a voucher for a spa treatment. It might be just what they need to recover from a year of teaching.
2- Useful and practical
You could always get them something useful. A nice pen will come in handy, for instance - you'll just have to hope that the other parents from your child's class aren't reading this, or the teacher could end up with a full stationery set.
Alternatively, something for the classroom would be useful. For infant and nursery school teachers, what about a soft toy book character? Not only will your child love to give their teacher a cute, cuddly toy (assuming that they don't want to keep it for themselves) but it can also be used as a teaching aid.
Soft toys like Paddington Bear, Elmer the Elephant and The Hungry Caterpillar are great fun. And, in association with the book, can be used to illustrate a variety of educational lessons for years to come.
3 - Make it personal
While a coffee mug with your child's face on it may make a great gift for dads and grandparents, it's probably a bit over the top for their teacher.
But what about something that shows the positive influence of their teaching skills? Ask your child to write a thank you note to their teacher in their own words, which you can frame. This can be especially effective if your child has shown real progress over the year.
"If you're still not sure what to buy as a teacher gift, then visit our site http://www.BigFatBalloons.co.uk for more inspiration. We've some fantastic helium balloons for teachers that will make a wonderful surprise - they're also very light for the teacher to carry. And if all else fails, our selection of Belgian chocolates are bound to be a welcome treat for the staff room!" Sophie said.
###