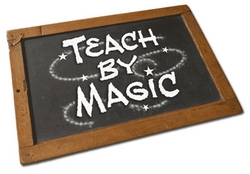 When people are in a state of amazement, they are very teachable
Payson, UT (PRWEB) October 9, 2009
Brian Daniel, a full-time professional magician, has just launched teachbymagic.com, a new way to enhance traditional learning -- through magic. Teach By Magic enables elementary to high school teachers, Scout leaders, church administrators, librarians and anyone else involved with educating youth with the means to dramatically increase their students' attention, enjoyment and retention of the material presented.
People love the mystery, the power and the wonder of magic tricks. Teach By Magic believes that learning starts with wonder. A simple magic trick can create that wonder and have a lasting impression on children of all ages. Studies by educational researchers suggest that approximately 83 percent of human learning occurs visually. Further studies suggest that three days after an event, people retain only 10 percent of what they heard from an oral presentation, 35 percent from a visual presentation and 65 percent from a visual and oral presentation; add magic and suddenly it is unforgettable.
"We are already receiving a lot of positive feedback from members of the site," Daniel said. "Teachers using the Teach By Magic tricks comment that their students are retaining the information better and actually asking for more."
"As a kindergarten teacher, my students tend to have really short attention spans. Teach By Magic is the perfect resource for finding new ways to keep them engaged," said Karen Grant, a kindergarten teacher in Spanish Fork, Utah.
"Teach By Magic is a great resource for any educator to use," said Carol Ambrosch, a third-grade teacher at the Ledyard Center School in Ledyard, Connecticut. "The performers are aware of both curricular connections to the illusions and how to hold a student's attention. The tricks are quick, catchy, and fun…what more could a teacher hope for!"
"Some of the magic tricks can be used to motivate students while others are used to illustrate principles, but all of the tricks are simple enough that anyone is able to easily learn them," Daniel said. "You don't need to have years of training or even make a stop at the magic shop. These are very basic tricks using common items found in the classroom or home. Although Teach By Magic is geared toward grade school teachers, it is also a valuable resource for anyone in need of a fun and memorable ice breaker, warm up activity, object lesson or incentive."
Magician and educator, Mike Hamilton of Fruit Heights, Utah, is one of the many magicians contributing lessons/tricks for TeachByMagic.com "When people are in a state of amazement, they are very teachable," Hamilton said. "Brian's concept is brilliant. It gives teachers the tools to create that amazement and enhance the entire learning experience."
Teach By Magic offers a free trial with limited access to the videos and explanations or an all access pass for only $2 a month. During October, to celebrate the launch of the site, Teach By Magic is offering half-off the regular price of the monthly membership fee (only $1) and the chance to lock that price in for life by referring other teachers.
To learn more visit: http://www.TeachByMagic.com
# # #